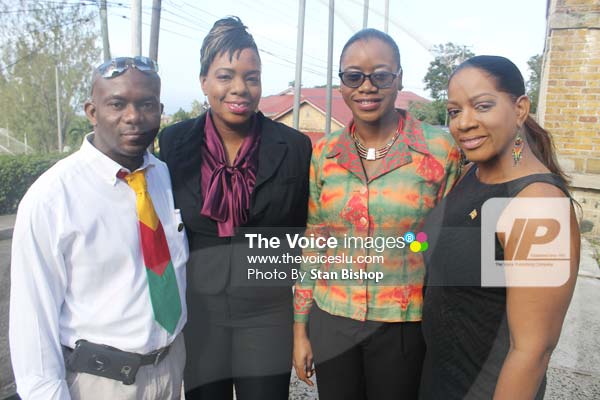 GRENADA'S 42nd. Independence anniversary was marred by tragedy over the weekend.
Grenadian police yesterday confirmed reports that a speedboat carrying about 12 persons, on its way to Carriacou, from Grenada, capsized Sunday. Initial reports were that one person, the lone woman in the party, was dead while five had been found and six were missing.
So far five persons have been found. The lone female among the group was found dead. The other six passengers are still missing. News sources quoted police as saying that one of the survivors was able to swim ashore on a cylinder, while another was picked up by a passing boat.
It was however business as usual at the OECS Secretariat yesterday, where Director–General of the Organization of Eastern Caribbean States (OECS), Dr. Didacus Jules joined Grenadians and other OECS Commission staffers at a flag-raising ceremony in observance of the independence anniversary.
Jules said the OECS Commission remained committed to deepening the ties among member states in order to make regional unity an everyday affair.
Grenada was granted Independence from Britain on February 7, 1974 under the leadership of Eric Gairy, who became that island's first Prime Minister. The country was also one of the original signatories to the Treaty of Basseterre and is a key player in CARICOM matters.
Dr. Jules said Grenada's "dramatic and traumatic" history was unlike any other in the English-speaking Caribbean, one that has been over four decades of ups and downs.
"In these past 42 years, the road travelled has been a long struggle for self-determination," Dr. Jules said. "It has been a journey fuelled by hope and much sacrifice. Throughout it all, the Grenadian people have demonstrated courage and resilience."
The OECS Director-General cited former Grenadian politician, Theophilus Albert Marryshow, whose vision for a united Caribbean continues to be an unfulfilled dream. Marryshow, Dr. Jules said, would have been proud of his native island for Grenada's continued dynamic role in the advancement of the regional integration movement.
Marryshow, born in 1887 and died in 1958, was a leading political figure in West Indian politics, advocating for the right of West Indians to elect their own chosen representatives in inter-colonial legislatures. His advocacy led to a major transformation in regional politics in the Windward Islands, Leeward Islands and Trinidad.
OECS Commission staffer, Nicole Garraway, also delivered brief remarks at yesterday's flag-raising ceremony, referencing Grenada's sporadic blows by natural and other disasters. However, she said hers is a country also characterized by the people's resilience, belief in God and the undying passion for striving towards high ideals.
With this year's anniversary of Independence held under the theme "Striving towards our destiny with faith and courage as one people", Garraway, too, has a few wishes for the Spice Isle.
"I wish for a people united, respectful and respected; a people who are lovers of God with a hatred for injustice, immorality and ingratitude," Garraway said. "(I wish for) a people living in a nation and by extension a region of peace, security and social inclusions; a people who can lead free, healthy and productive lives."
Grenadian-born Saint Lucia-based radio personality, Mareen Alexander, described her country's Independence as "a very sacred thing to me". She said a great deal of education has gone into making Grenadians know the significance of the February 7 observance.
"We really do take Independence seriously," Alexander told The VOICE. "It is very important to us. Around this time every year, no matter what happens between us politically or economically, we re-commit ourselves to our first passion: being Grenadian and elevating Grenada."
Alexander said Grenadians are a resilient, loving and accommodating people who band together and rise above everything. It is that spirit, she said, Grenadians build on as they follow in the footsteps of Marryshow to build a more united region.
"We want to see ourselves as being leaders in terms of unity throughout the region, that vision that T.A. Marryshow had. We have so much to offer as a region because we really need to have a real Caribbean unity," Alexander said.
Grenada, popularly known for its nutmeg and mace crops, is 133 square miles in size with a population of 110,000 people. The country gained international attention on October 25, 1983 when combined forces from the United States and the Regional Security System (RSS) invaded the country following a coup against the Maurice Bishop-led government.