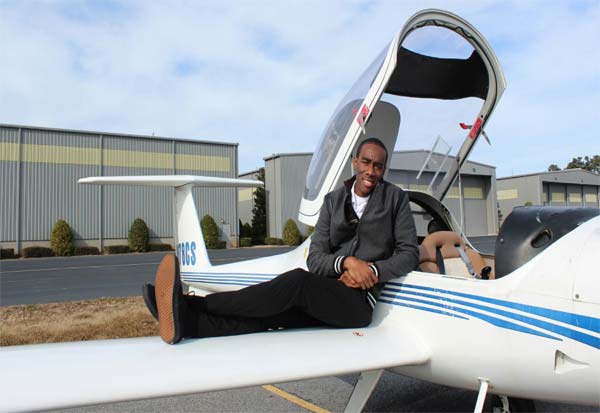 A young St Lucian male is seeking public support to help finance his passion to become a commercial pilot.
Tevin Belasco, who was born and raised in Saint Lucia, is studying at the Falcon Aviation Academy in Atlanta, Georgia with funding from his parents and girlfriend but he needs more help to continue. The son of Emil and Lindy Belasco of Piat, Gros Islet, he was employed at Beachcomber Limited before going to the U.S.
He expressed thanks to Sylvanus Ernest and Kirby Toussaint, assistant Airport Manager at George F L Charles airport for assisting him and helping grow his interest in aviation.
Said Belasco: "I have gotten as far as obtaining my private pilot's licence and I am currently on the instrument rating. Unfortunately, paying for commercial flight hours is not an easy task. I have passed all my exams up to this point and I am ready to build my commercial hours. This is why I need the money, to complete my commercial training. I need the finances as soon as possible".
Belasco said aviation has always been a very big passion of his from the age of 5. "I did everything possible to be around aspiring individuals in the aviation field which includes volunteering during my summer breaks and on weekends at the airport", he said
Last year was the turning point for him when he left home, family and friends, and moved to the United States to pursue his dreams.
"Upon arrival I was oblivious as to which school I would attend or where I would find funding. A brief visit to Atlanta turned into an unscheduled trip to Falcon Aviation Academy where I toured the facility and obtained in-depth knowledge as to how the courses were set up", Belasco added.
Pleased with the outcome of that visit, he proceeded with the little money he had from his parents and girlfriend to enrol at the academy.
Belasco is now seeking to raise an additional US$38,600 to pay for his remaining courses. Contributors in the Atlanta area get a bonus of flying with the young pilot as he builds his commercial flying hours. He said: "Contributions can be made at the website gofundme.com. and type in my name."
The fund raising drive was launched a week ago and by Sunday had raised $1,745 after just five days.
Belasco said any young aspiring pilot in the Atlanta area, has an opportunity to fly with him as he builds his commercial flying hours. He said: "This is my way of saying thanks for helping me accomplish my dream of becoming a commercial pilot. Any donation would truly be a blessing to complete what was but a pilot's dream".