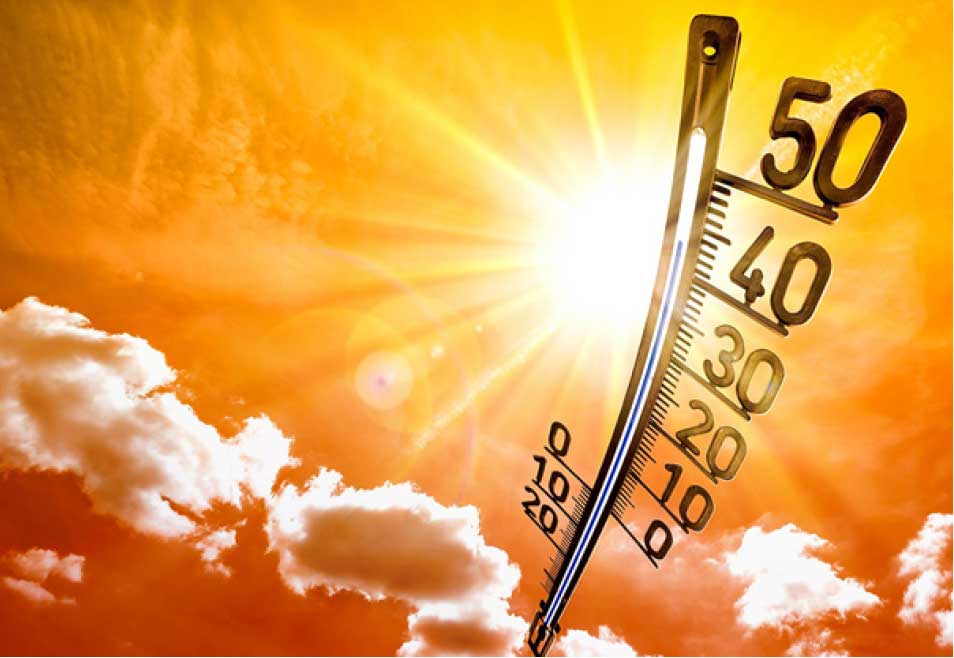 Saint Lucians are being cautioned to brace up for the likelihood of an intensive Heat Wave that is anticipated to sweep over the region, this summer.
Consequently, the Saint Lucia Fire Services (SLFS) have advised citizens to take all precautionary measures to safeguard themselves from harm, as the Caribbean prepares for a hot summer.
Citizens are urged to remain indoors this summer, especially during the peak hours from 10 .00a.m to 3.00p.m and also to avoid strenuous outdoor work during the most scorching hours of the day. The authorities also recommend that persons drink lots of liquid and wear loose-fitting clothing.
Predictions are that regional territories are in for a long hot summer with sweltering heat- as the annual Atlantic Hurricane Season develops.
"With the upcoming hurricane season, slated from June 1 to November 30 there appears to be great expectations of an excessive heat wave throughout the Caribbean and Saint Lucia is no exception," said SLFS Station Officer Fernando James.
"It is expected that forecast models have indicated a heat wave will persist through the Caribbean, where excessive heat can be expected, especially during the months of July through to September," he explained.
James added, "Intense night time and day time heat is expected in much of the Caribbean from July to September, marking the peak of the hot season. The Saint Lucia Fire Service will be in full effect to respond to pre- hospital 911 emergencies directly and indirectly related to heat related emergencies."
The SLFS personnel advises residents to keep check on elderly persons and others who may be more vulnerable to heat –related illnesses.
EMS Manager James asserted that there are certain precautionary measures that can be employed to safeguard oneself from the impending heat wave, noting that it is important to keep tuned to local radio stations for information on weather advisory.
The SLFS official offered additional tips to follow, such as:
– During any heatwave period, remain indoors in air conditioning when possible.
– If outdoor activities are necessary, frequently rest in shaded areas. Avoid activity during the hottest times of the day.
– Stay well-hydrated by drinking plenty of fluids.
– Avoid alcoholic beverages which are dehydrating; drink bottled or boiled water.
– Wear loose-fitting, light-colored clothing.
– Cotton fabrics are more cooling than synthetics.
In a statement on Monday, James also explained that the heat could affect public health in the following ways:
– Strong increase in mild heat symptoms
– Increase in heat illnesses, fainting episodes, hospitalisations
– Exacerbation of vulnerability in patients with chronic illness, children, pregnant women and the elderly
And for persons working outdoors, the SLFS official said the heat could affect occupational health in the following ways:
– Potential increase in exhaustion during intense outdoor activity
– Reduced labor productivity
In addition, James pointed out that excessive heat can affect one's well-being in numerous ways including:
– Increased sweating and water consumption
– Potentially increased fatigue, irritability, and aggression during prolonged heat waves
In severe cases, James warned: "Promptly seek medical attention if signs of heat exhaustion or heat stroke develop."
Meanwhile, according to the Barbados-based Caribbean Climate Outlook Forum (CariCOF) in its heat outlook for May to October 2023, excessive heat can be expected, especially in August and September.
The heat outlook forecast notes May to July, marking the first half of the Caribbean Heat Season and that, (April/May to October) may well be hotter than usual for most.
Intense night-time and daytime heat is expected in much of the Caribbean from August to September/October, marking the peak of the Heat Season.
The majority of the forecast models predict that an El Nino will start this season May to July 2023 (73 per cent chance).
There is a likelihood that the El Nino phase will persist through early 2024. The wet season in the Caribbean may be drier than normal in view of the likely development of El Nino.
Currently, short-term drought has developed in Barbados, Belize, southeast Cuba, USVI, Martinique and St Vincent while long-term drought has also developed in other areas across the Caribbean.