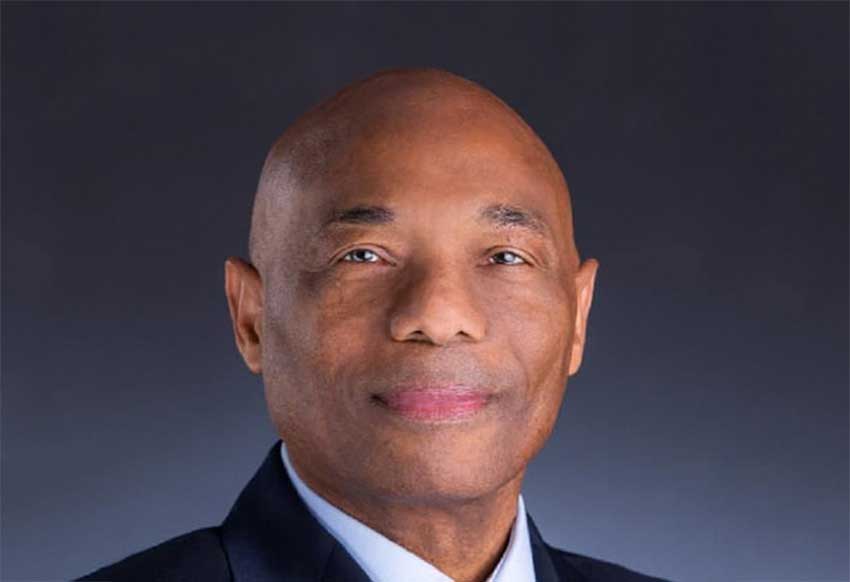 Caribbean Development Bank (CDB) President, Dr. Hyginus 'Gene' Leon,Thursday, met with various multilateral development bank (MDB) representatives, to discuss significant development priorities facing the region.
With Leon were Mauricio Claver-Carone, Inter-American Development Bank (IDB) President, Werner Hoyer, European Investment Bank (EIB) President, Dr. Warren Smith, former CDB President, and Dr. Marion Williams, former Governor of the Central Bank of Barbados (CBB).
The group exchanged views on the critical role of MDBs in driving and coordinating reforms towards the achievement of the United Nation's (UN) Sustainable Development Goals (SDGs).
The meeting was held virtually via ZOOM.
"Our topic for today's discussion asks the question: how best can multilateral development banks play a catalytic role in mobilizing innovative financing, including from the private sector in order to accelerate development outcomes. We of course refer principally to the UN's sustainable development goals to be reached by 2030," Moderator Williams said.
The 2030 Agenda for Sustainable Development, adopted by all United Nations Member States in 2015, provides a shared blueprint for peace and prosperity for people and the planet, now and into the future. At its heart are the 17 Sustainable Development Goals (SDGs), which are an urgent call for action by all countries – developed and developing – in a global partnership. They recognize that ending poverty and other deprivations must go hand-in-hand with strategies that improve health and education, reduce inequality, and spur economic growth – all while tackling climate change and working to preserve the world's oceans and forests.
The 17 SDGs include but are not limited to, elimination of poverty, enhancement of food security, good health and well-being, quality education, gender equality, clean water and sanitation, affordable and clean energy, decent work and economic growth, industry innovation and infrastructure, reduced inequalities, climate action, sustainable cities and communities and peace, justice, and strong institutions.
"Multilateral development banks have a significant role to play in driving much needed reforms to achieve the SDGs with the end goal of improving and sustaining livelihoods. The attainment of the SDGs will require significant resources from the public and private sectors if we are to make genuine progress," Williams stated.
Noting that the CDB is placing an increased emphasis on a more holistic approach, Leon said "I think we need to start from the very real position that the regions needs are extremely huge… we need to tackle all of the needs not just one of the needs, because if we don't do all we simply cannot achieve the development goals that we are talking (about)."
"When we say development goals what exactly are we talking about? We can summarize this as making the region a place of choice where future generations want to live and if we start from that basic premise, I can think very quickly of at least four key goals that we need to embrace as a region: food security, energy security, water security and as long as you have food, water (and) power, then we need to talk about quality-of-life security," Leon said.
According to him, for the abovementioned to be accomplished, a number of things must be considered.
"To be able to do that I think there has to be three key facilitators.  Those facilitators have to be embracing a digital transformation in everything we do because it will be part of living in the 21st-22nd centuries. (Secondly), we need to address what I think is the Achilles heel of the region over the last 50 years: solving our implementation capacity deficit problem and the third (one) is embracing and wrapping all of this in a concept of strong governance," Leon said, adding that the latter is based on the ability to make sound decisions based on evidence and strong institutional frameworks.
"That is the element that we need to look at and when we say holistic, we are talking of tackling the problem in all of those dimensions. Obviously we cannot do all of it at once and so what this means is we need to be able to prioritize. As long as we talk about prioritization, it becomes clear that we need to be able to distinguish our needs and our needs are not the same at all points in time," Leon explained.
He added, "We have indicated that the way we do this is to be able to distinguish the issue of rescue, because we in the region continue to be buffeted by various shocks across time. (Secondly), we need to have an element of recovery because after the rescue operation is done you have to be able to recover. After rescue and recovery, you need to be able to reposition and repositioning now says how do you put yourself back to the gold pathway that you were doing before whatever crisis/shock actually occurred. Therefore for us, the fundamental element underlying all of this has to be resilience—being able to bounce back."