Chastanet Leads UWP To Stunning Election Victory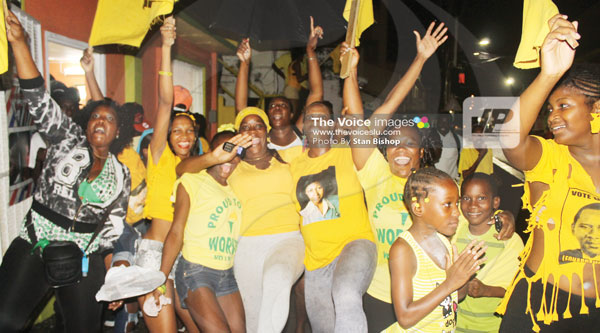 VOTERS throughout St Lucia delivered a stunning rebuke of the St Lucia Labour Party (SLP) and its leader Dr. Kenny Anthony in general elections yesterday.
According to last night's preliminary count, Allen Chastanet's United Workers Party (UWP) had been declared winners of 11 seats with the other six going to the SLP.
The rebuke of Labour came the day after Anthony had appeared on radio and television Sunday night to make a final appeal to voters to return his party so that, according to him, he could complete the job he had started. (See story inside).
But voters appeared to be saying that either Anthony had not started any job worth continuing or that they did not want him to finish what he had started.
Last night, after the results became clear Anthony announced that he would not be taking up the position of Leader of the Opposition or continue as leader of the SLP. However, he said, he intended to remain as parliamentary representative for Vieux Fort South.
Anthony congratulated the UWP and recognized that the result represented a major swing against his party.
The election results defied two polls, one that had predicted a close race and the other that had the SLP a comfortable winner. But from early in the count last night, it was clear that a major upset was in the offing.
The first results from Gros Islet, Castries Central and Castries North set the stage of a massive swing against Labour that many had difficulty in accepting.
In Micoud South, where there had been claims that UWP leader Allen Chastanet would have had a hard time winning, he opened up a commanding lead over Guibion Ferdinand that ended in an easy victory.
Next door in Micoud North, Leader of the Opposition in the last House of Assembly Dr. Gale Rigobert fought off the challenge of both the SLP candidate and Independent Jeannie Compton-Antoine, daughter of former Prime Minister and UWP founder Sir John Compton.
It was a night of surprises with some astonishing results, like in South Castries, a hotbed of Labour support for many years where first timer and former Civil Service Association President Mary Isaac almost triumphed over former St Lucia High Commissioner Ernest Hilaire in the seat that was vacated by Education Minister Robert Lewis.
Labour held on to its southern fortress of the two Vieux Fort seats and Laborie. In Castries East, Infrastructure Minister Philip Pierre was one of the victors for Labour in the country's northern region holding onto his Castries East seat against UWP's first timer Fortuna Belrose by 2,901 to 2,565 votes.
In Dennery North, Sports Minister Shawn Edward fought off the challenge of another first timer Jimmy Henry, a latecomer to the contest to hold onto his seat.
Several of the SLP candidates came in for serious pressure in the opening hours of the count including Anthony himself in Vieux Fort South.
There was another surprising result in Anse la Raye and Canaries where UWP's Dominic Fedee had the better of SLP's John Victorin by 1,712 votes to 1,542.
Stunning too was the result in Soufriere where another newcomer, Herod Stanislaus toppled Harold Dalsan 2,222 votes to 1,874 votes.
Former Prime Minister Stephenson King made light work of SLP's John Charlery in Castries North 3,774 votes to 1,482 and in the adjoining Castries Central Sarah Flood-Beaubrun regained the seat she once held for the SLP in 1997.
Early morning showers at one time had threatened to disrupt the entire day's proceedings as St Lucia came under the influence of a trough, but by 6.30 when polling stations opened there were long queues of voters at several polling stations in many parts of the country.