The campaigns of the two contenders in the race to occupy the post of President of the Saint Lucia Olympic Committee (SLOC) are gathering momentum. Both Alfred Emmanuel (SLOC current General Secretary) and Eddie Hazell (President of the Saint Lucia Aquatic Federation) are going full throttle as elections are just three days away.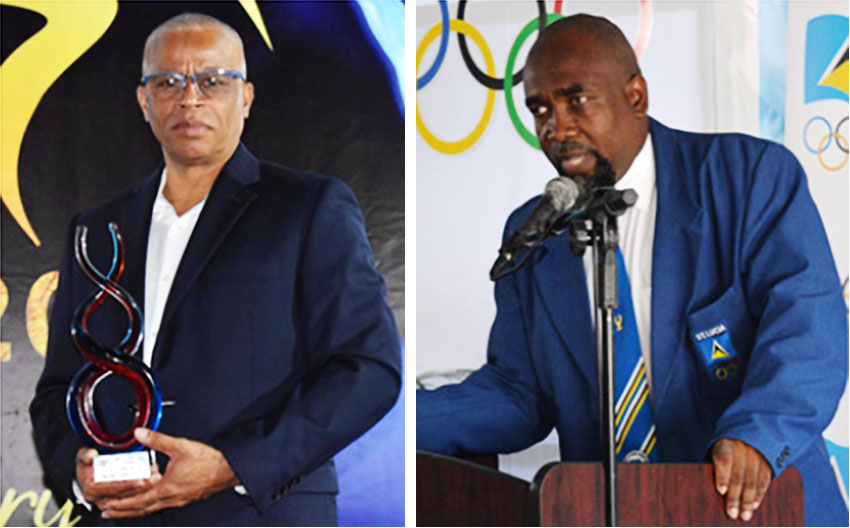 This election has been the most talked about in the organization's history and is too close to call.
Apart from Emmanuel and Hazell, a number of familiar faces will be looking to hold on to positions they already have, while others will be looking to unseat them.
It is still unclear as to the final slate of candidates on account of errors made during the nomination process.
Going to press yesterday, there was no word coming from the SLOC Headquarters nor election Commission on the above stated matter.
Emmanuel, last September announced he will run for the top post after current President, Fortuna Belrose, who served for two terms (8 years), said she won't be seeking a third term in office as she has turned her attention to elective politics.
Emmanuel has served on several national and regional organizations including the Saint Lucia Athletic Association, both as President and Public Relations Officer. He also served as President of the Saint Lucia Boxing Association (SLBA) and First Vice-President of the Saint Lucia Football Association (SLFA).
On the regional scene, he has served as Treasurer of North American, Central American and Caribbean Athletics Confederation (NACAC), Executive Committee Member of Central American and Caribbean Athletics Confederation (CAC) and Treasurer of Caribbean Association of National Olympic Committees (CANOC). He currently serves as Chairman of the Olympic and Culture Commission for Pan Am Sports and is a member of the Coordination Commission for the 2025 Pan American Junior Games.
The SLOC General Secretary hopefully is riding high on his 25 years (1996 to 2021) of experience, personal friendships and the working relationship he would have forged over the years as the SLOC General Secretary. Emmanuel believes that the majority of the SLOC members would take that aspect into consideration when deciding whom they should cast their votes for on Tuesday 16th.
He also believes that the various National Federations under the SLOC banner need to go back to the drawing board and be in a position to produce natural qualifiers when attending international games.
Meanwhile, local pundits including a number of national sportsmen and sportswomen are keeping a close eye on the happenings at the SLOC. They say years of experience is important only if it comes with positive results. Years of experience they say that have had no positive impact is not grounds for promotion.
Emmanuel's challenger, Hazell has been SLAF President for three terms (six years) and has his vision set to represent athletes at the highest level.
The Swimming Chief has responsibility for strategic planning, management, team building, innovation, marketing, networking and resource mobilization within his organization. The Rebranding of the swimming federation from Saint Lucia Amateur Swimming Association to the Saint Lucia Aquatics Federation.
Hazell believes the Federation must embrace and develop all forms of aquatics both competitive and leisure under its portfolio.
Under Hazell the Lady Gordon Opportunity Centre in Ciceron received a Learn to Swim portable pool in 2019 in support of the school's special needs programme. In the south of the island, a site has also been secured in La Tourney, Vieux Fort for a four-lane 25 metres community pool. The land has been leased to the Saint Lucia Aquatics Federation for 100 Years.
Hazell has accomplished much where swimming is concerned in Saint Lucia.
Swimming captured the annual national sports award of "Administrator of the Year" and "Association of the Year" on multiple occasions
"As someone with a proven track record of collaboration and delivery, as well as dedication and passion for the Olympic movement, I believe I am the right person to guide the SLOC to the next stage of its Olympic journey," Hazell said.