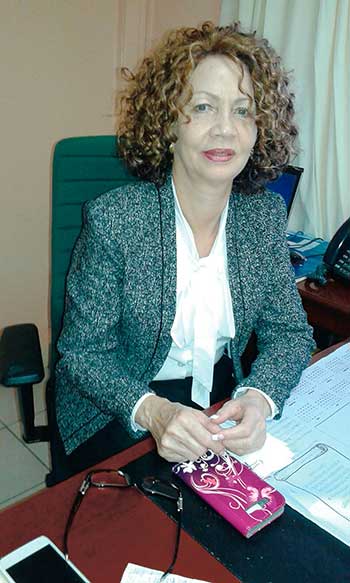 What do you do when you hear about a woman who is not only a completely tremendous individual, but also a trailblazer? You shine a bright light her way and let the whole world see what a Super Shero she is, of course!
That is exactly what I am doing today with WOTW Colindia Murray.
Murray has clearly touched a lot of hearts because this feature is a small gift from her beloved employees. You see, she officially retired on April 1 after serving at the Saint Lucia Air and Sea Ports Authority (SLASPA) for over 34 years.
Murray can be credited for setting a perfect example and leading the way forward for women everywhere for her achievement of being the first female Air Traffic Controller in St. Lucia and the Eastern Caribbean.
She joined SLASPA in 1983, although she had over 10 years of previous experience as an Aeronautical Information Officer, and through hard work and perseverance, was eventually promoted to Air Traffic Control Officer II.
On March 25, 1998, she was appointed Assistant Airport Manager, a post she held until September 10, 2008 when she was promoted to Airport Manager.
When asked about her trailblazing accomplishment, Murray said: "Initially I was not interested because I thought it was a male-dominated career. However, my father motivated me to apply for the position. Although I faced many challenges in getting the position, I overcame them and was sent on training. While at the training, I was shocked to learn that I was the only female who had ever been trained as an Air Traffic Controller in the Eastern Caribbean and Trinidad, so I was the first Caribbean woman to become an Air Traffic Control Officer."
Murray also spoke about her most memorable time while on the job. She said: "I remember a situation where we had a weather system which caused unusual flooding on the tarmac. It was so bad, we had to utilize taxi buses to transport persons from the tarmac to the front of the arrivals hall. There was water all over: in and around the airport which was very challenging but we worked our way around it. Having to facilitate the passengers who participated in the 2007 Cricket World Cup was also very rewarding."
Murray said there are many standards that one must hold high when placed in these positions. She said it takes a certain mindset to even be considered for these roles; however, they can be attained by anyone who is willing to put in the effort.
One of her strong points was customer service. She said: "Customer service is very important, whether it is internal or external. People love to feel special and know that they can add value to your business. When people come to your organisation, they come to be served by you, they come to do business with you and not the building. We are the organization, therefore it is important for employees to go the extra mile and put themselves in the customer's shoes. Also, note well the internal customer; never see your colleagues as unimportant. We need to value each other, be polite and courteous to each other."
Her message to the current crop of SLASPA employees is: "In everything you do, always give thanks and praise to the Almighty and put Him first."
Being the people's person that she is, when asked what she will miss most about her job, Murray simply said: "The people!"
Another trait that Murray was well-known for was her savvy dress sense and professionalism. On that aspect, she said: "I believe the education system has failed to prepare persons for the work environment. When I was growing up, the education system was different. We had a class which was called "Deportment", which was centred on health and hygiene and how to carry one's self. We were also taught what was acceptable and unacceptable for a work environment. I always say as well that one must always dress for success and dress a step above the position you hold."
This response tied in perfectly with her secret. As you know, my WOTW are always asked to reveal little secrets about themselves so that readers could connect to them just that bit more.
Murray revealed that her sense of fashion is not coincidental: "I did a course in cosmetology. I am not a certified cosmetologist but I trained in the field."