THEY say that when it's nice, then do it twice. That's what I'm doing with today's WOTW, who was my very first WOTW. She is, of course, Miss Universe St. Lucia, Louise Victor.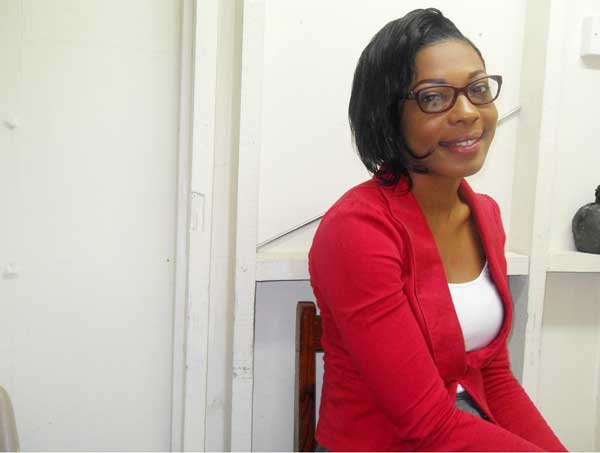 Victor graced her way into the judges' hearts on Monday to win the coveted crown and the chance to represent St. Lucia at the Olympic version of pageantry — Miss Universe — in November.
The 26-year-old spoke candidly to The VOICE about her mission, which has been seven years in the making. She competed in the same competition in 2014 and placed first runner-up, admitting that it hurt. However, she eventually told herself that everything is done in God's timing.
After she answered the final question on Monday night, she said she was satisfied that she had given her all and did what she was supposed to do.
In the history of St. Lucia's participation in the Miss Universe pageant, no Saint Lucian has ever been selected in the final cut of 15 women. Victor said she intends to shatter that statistic with her eyes focused on the crown.
A determined Victor said: "Every time I speak about it, I'm like 'I'm bringing the crown to St. Lucia, I'm bringing it back to the Caribbean. I will be the fifth or sixth black Miss Universe. I tell myself these types of things, so for me it's 'Prayerwise, Visualise, Actualise', and that's how I keep going towards it."
Victor admits that in the past the selection and preparation process of past contestants were perhaps inadequate. However, she saw gradual improvements, especially with the last two contestants (Roxanne Didier Nicholas and Tara Edward). It is for this reason, she said, that she intends on sitting with the two former contestants to do an intense and in-depth study of the experience.
She said: "It's one thing to do research, following contestants (on social media) and watching YouTube videos. But it's an entirely different thing to live the experience, so I will be sitting with Roxanne and Tara to know exactly what it is like."
The pageant queen said she has heard about the grueling schedules, long days and nights, and sleeping on buses whilst making non-stop appearances. However, she feels mentally conditioned for it all, especially because she believes in planning in advance
Victor said she considers herself a brand in every aspect of her life, both professionally and personally, and she lives up to that brand, representing it wherever she goes, not just for herself, but for St. Lucia.
She said her desired effect is to leave people who don't know about her island home yearning to go there and find out about it as opposed to simply scratching their heads about the island and shrugging it off.
Victor believes what sets her apart from every contestant is her perseverance. She said: "I was asked 'Why are you still doing pageantry? Why are you going up for Miss Universe again? Why don't you just give up, you've done too much.' But the truth is nobody ever takes Louise's dreams from her. If I want something, I go after it."

Victor is also well-known for her years of philanthropic work with youth around the island as well as different communities.
She said: "I think it's also because of my national presence as an individual, the different spaces that I've contributed to, from not just pageantry, my contribution through youth development in my community of Micoud, as NYC (National Youth Council) President, my presence as a Marketing Executive at Digicel, both on the advertising end and the CSR activities, that I would have been directly involved in and executing."
She continued: "In many ways, I've made my impact in my country and I continue to do so. Also, there are so many things that I've done silently that I don't think needs to be publicized. Persons I've helped but it's nobody's business because if you're helping people genuinely, nobody has to know. I just take in the moment, share that connection with that person and give them my undivided attention."
As if that was not enough, she is also a Chevening Scholarship 2017 holder and will be pursuing her Master's in International Public Relations and Global Communications with dreams of becoming a global PR Consultant working with the likes of UNICEF, FIFA, World Cup, Olympics, so yeah, she definitely stands out.
Victor said should she win, she will be extremely proud of achieving such a feat for her island home and would be eternally grateful to her team whom, she said, is instrumental in helping her achieve that goal.
But, she said, this would be the perfect opportunity to include the island and the region in the numerous mandates that Miss Universe is bound to undertake, whether it is set on education, health, climate change and other priorities.
As with every pageant, Victor was not spared from the drama that comes with the territory. As soon as she was named as one of the local contestants for the Miss Universe St. Lucia pageant, some said she was picked as a clear favourite and was destined to win, leaving the other contestants with no chance of victory.
Victor kept it brief and classy on the subject, saying: "For me, it was really irrelevant. I was like 'Okay, if that's what makes you sleep better at night, then power to you!"
She said the 'sticks and stones' saying is a lie because words can kill. However, in order to spare herself from the negativity, she simply purged herself from the majority of social media.
With that said, we jumped to my final WOTW question…the secret, and boy, did she have one. Victor revealed that her two pinky fingers are disabled. Whilst they are fully functioning, they cannot be straightened. She revealed that she actually gets a kick from freaking her peers out with it, especially the way they bend in a peculiar manner. Naughty imp!