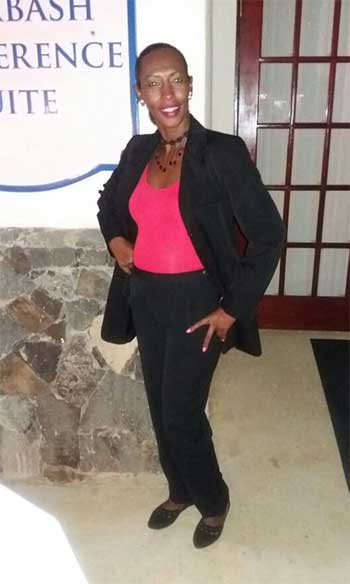 IT is really something when you come across someone who is so passionate about their craft that seems to ooze from their very being.
What's even more admirable is when they are able and extremely willing to pass their skill to others so that they, too, can share in the success of the field and make a life for themselves.
This is the feeling you get when you meet today's WOTW Barbra Gottshalk, owner and operator of Superior Institute of Beauty, situated along Darling Road in Castries.
Jamaican by birth but a St. Lucian citizen of 12 years, she is a Trained Facilitator in Cosmetology, Nail Technology and Barbering, and also an Assessor with the Technical and Vocational Educational Training (TVET) Unit in the Ministry of Education where she does assessments in the previously-mentioned areas.
While she is known to be extremely jovial and friendly, she is also known to not mince words when it comes to speaking her mind, especially when it comes to her work, which is one of the reasons why she stands out and is well-respected in her field.
Gottshalk said it is her dream to see young St. Lucians utilise their skills; however, many of them just don't seem to want to grab the opportunities dangling before them.
Gottshalk said: "When it comes to training, I believe that skill is power and every woman should have a career or a skill, per se. I believe that when it comes to skills, St. Lucians don't take it very seriously, especially for now what is being offered."
She said many people have the skill set, but when it comes to certifying their skills, they fail to show up or they don't want to pay the relatively small fees to achieve said certificates.
She said: "There are many opportunities for them to go overseas and they can work in other countries and set up their businesses. But they don't take advantage of these opportunities which are there. A lot of them complain that there are no jobs, but the qualification is there at all levels, yet they don't want to seek it. This is something that I find that we as a people should take more seriously."
Gottshalk said it was not an easy journey getting to where she is today, especially growing up in Jamaica where no level of education is free. She said with the right mindset, it can be done.
She said: "It took a lot of money and determination to reach where I am, but in the end it pays off!"
There's a saying, "Those who can, teach", and this is exactly what Gottshalk has been doing, out of the goodness of her heart, and at the expense of her very own pockets. But it is something that she said she definitely loves doing if it means that a young person will get a chance to earn a decent and honest living for themselves.
She said: "Teaching has been my life. I've taught many St. Lucians for free, and there are lots of them who are working still. I worked with the girls at the Ciceron Girls Home, and every month they would come to the salon and I would do their hair for free. I have paid CXC fees for quite a number of students and paid lessons for a lot of them just to help them grow. I've taken a lot of them off the streets and taught them a skill. I taught them to do nails and they are now working. Although a few have never come back to say thank you, a lot do come in from time to time to show gratitude."
She continued: "I normally do my summer programme from July to August with secondary school children who I normally teach manicure and pedicure skills because I want to expose them from early on to a skill. At the end of August, they get a certification and assessment from the TVET Unit in these two areas and they get competency statements in that field. The cost for the programme is $250 for the two months and so parents with teenagers who have nothing to do during the holidays should encourage them to come and learn something where at the end of the day, they can get a job once they leave school. Some of my past students have been working in different spas for years up till now. It could very well be a stepping stone to what they want to achieve."
For her secret, Gottshalk gives new meaning to the term "ride or die" with her firm belief of loyalty.
She said: "I believe in loyalty and I'm a friend and companion who is very loyal. Loyalty, to me, is one of the most important things. If I choose you to be my friend, believe me, you have a friend till the end."