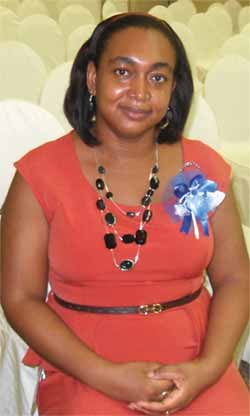 Today's WOTW is as unique and mysterious as her beautiful name. Besides that aspect, however, she is a dominating force that is living life on many levels as a boss.
Solace Myers is a woman whom you instantly respect when you first meet her but you also get to really admire and respect her more as you get to know her.
The mother of one has worked at the National Workers Union (NWU) for over 5 years and has held the post of Deputy President General for the last 3 years. She is the first female to hold that position in the 44-year-old history of the trade union.
Myers' personality fits her name Solace perfectly and although she said the story behind her name is a closely guarded family secret, she did admit that it indeed means comfort, serenity and peace.
Although she is a "SuperShero" in my book, Myers considers herself to be a normal woman who is a perfect blend of introvert and extrovert.
She says she is usually reserved but enjoys good fun and laughs and is unable to resist dancing to any Machel Montano song. Professionally, however, she goes into extrovert/boss mode where she meets with all levels of individuals daily (and here's where the SuperShero part comes in) as she fights for the voices and rights of employees island-wide who face many employment issues.
Describing her life, she said: "I think I'm fair and smart. I try to carry that philosophy into my job as conflict does not help anyone or any situation. I've been told many times that I don't waste words or questions, that when I speak I have thought it through. I think that's true because words have power and I believe that before anything is said, you need to think about the impact it will have on those around you."
She added: "My silence, I've been told, also speaks volumes. I am self-assured and pretty grounded. My family plays a significant role in keeping me grounded and their support has boosted my self-esteem."
To say that Myers is good at her job would be an understatement and an injustice. Yet, she continues to break the mould and make womankind proud, paving the way for other women to follow suit and achieve greatness in this "man's world".
Myers credits NWU President Tyrone Maynard for believing in her and giving her the opportunity to practice what she studied and loved.
She said: "Not many people are fortunate to say that they love what they do. I am very blessed and thankful that I can. I am also grateful to the membership of the NWU for all their continued support and faith in my abilities…This job has afforded me so many positive experiences and has really shaped the way I approach a lot of situations, even in my personal life."
Myers stressed that her job is not always smooth sailing and that it takes a huge amount of personal strength, confidence and inner peace for her to be where she is today. So it is no surprise that her words of advice to women are words that are sure to inspire and awaken your inner Amazon.
She implored women to not allow people to dictate their lives and their futures, as their fate depends on their very own beliefs and self-confidence.
She said: "If you don't have faith in yourself to begin with, no one can have it for you. Being a woman is tough enough and being a woman in a male-dominated field adds to the pressure. You must value yourself and your integrity above all else. It starts with you. If you don't like what you see in the mirror every morning, you're the only one with the power to change it. So love yourself first."
Myers added: "When you love yourself, I think it becomes very difficult for anyone to hold you back because you become confident and that confidence allows you to make positive decisions for yourself, family, friends and life situations in general. It's that simple. Once that's achieved, it will transform you and touch all aspects of your life, making you the person/leader — no matter the capacity, you were meant to be."
So what's Myers' secret?
"I am a closet One Direction fan. I think Harry Styles is destined for greatness!" she said.