HAVE you ever met someone who makes you smile like it's a reflex action whenever you meet them? Well, I can bet that anyone who knows today's WOTW will say 'yes' to that question.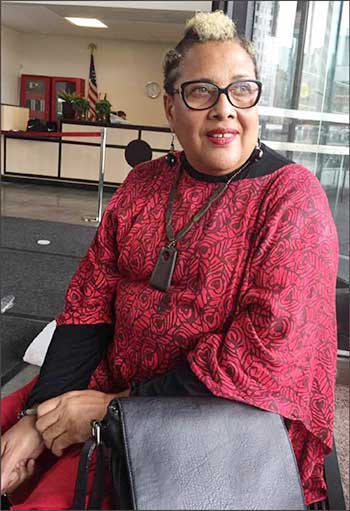 Jackie Olga Cherebin-Weekes is so worthy of this title for so many reasons, ranging from her infectious warmth to her unmistakable voice and appearance.
When it comes to her fashion sense, Cherebin-Weekes said: "I discovered my love for unique clothing and accessories in my teenage years and since then I have always prided myself in not following fashion but instead having a unique sense of style. I believe that an item does not have to be expensive to have beauty and that an individual makes the clothing look good and not the other way around."
Aruba-born Cherebin-Weekes was brought to Saint Lucia at the age of 5 months old but schooled in Barbados and Grenada. She spent all her school holidays in St. Lucia with her aunts at the family home on High Street in Castries.
Cherebin-Weekes is a proud mother of two and the grandmother of four beautiful grandchildren who all reside in Canada.
After travelling to different parts of the world as a single mother with her two daughters in tow, Cherebin-Weekes eventually settled in Canada with her then husband and ran a jewellery-making business.
However, the call of the Caribbean was too strong to ignore, and she moved back to St. Lucia in 1997, where she continued her jewelry business, even doing a short stint at one of the island's leading hotels as part of the management team.
It was from that stint, and also from managing the Indies Night Club, that she gained experience in Event Management and went on to establish Jackie O. in 2003 which still exists.
While Cherebin-Weekes is known to love a good laugh that is so unique that it can't be mistaken for any other, she is also well-known for being extremely passionate about whatever she sets her sights and heart on. This is where her passion comes with a serious, no-nonsense side.
She said: "When I undertake a task, I put my all into it and always strive for excellence. I'm a very affectionate and charismatic individual and I believe in being a ray of sunshine everywhere I go as I see the need to uplift others in my environment."
She continued: "I am a lover of the arts and have always been around artistes and artisans. Because of this, I delve into the development of the artistes to include their imaging, coaching for media interview, composing their biographies, and pointing them in the right direction in respect to their varied careers."
One of the many other things she is passionate about is researching music in all genres, especially favouring Jazz and World Music, and she researches information on the music and dance which helps her to understand the culture, roots and soul of the many talented performers worldwide.
Now here is where the SuperShero in her kicks in: Cherebin-Weekes enjoys reaching out to the homeless and also disenfranchised youth to help them in any way possible, but especially spiritually.
She said: "I believe in the power of prayers. I believe firmly in Jesus Christ being my Lord and Saviour and I put Him above and beyond all things in my life."
Her secret turned out to be not so secretive and it is that she is a pint-sized warrior.
She said: "I abhor injustice and I'm very patriotic to my homeland Saint Lucia. I believe that people must stand up for their rights no matter what adversities they may face."
Well, I did say that she is a SuperShero, didn't I?!