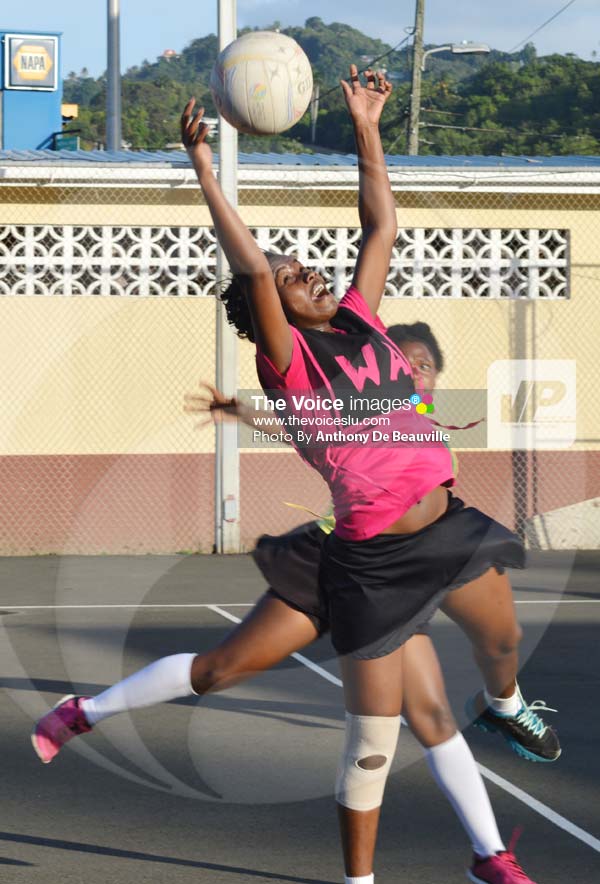 THE Independence Netball Classic continued this past weekend with five matches played at two venues.
At the Vigie Multi-Purpose Sports Complex there were wins for Anse la Raye, N.V Ballers, Mabouya Valley and Desruisseaux, while in Canaries the home team won over Shamrock.
At Vigie in the first encounter played in Division Three – Anse la Raye had the better of S. J. C. Egrets 28 – 21. S.J.C. Egrets led only in the first quarter 7 – 6. Anse la Raye came from behind to lead in the remaining quarters 16 – 13; 23 -17 and final score 28 – 21.
For Anse la Raye the versatile EulitaProspere netted 18 from 26 attempts and Sherlana St. Croix scored 10 from 17 attempts.
For S.J.C Egrets Lien Moise netted 9 from 11 attempts, MalikaDestang scored 7 from 8 attempts and Mikale Daniel had 5 from 6 attempts.
In the second encounter also from Division three – N. V. Ballers defeated Shamrock 30 -27 in a keenly contested match up. N. V. Ballers led the first quarter 8 – 6 but, it was all even in the second quarter 14 -14. In the third quarter Shamrock nosed ahead at the end 22 – 19, but were not able to hold onto their advantage and eventually lost to N.V. Ballers 30 – 27.
For N. V. Ballers, Juslene Joseph netted 14 from 32 attempts and Niomi Raymond scored 16 from 39 attempts.
For Shamrock, Brittney McDonald netted 21from 29 attempts, Nicole Nestor scored 5 from 24 attempts, while Joanie Remy netted 1 from 4 attempts.
In the Third encounter in Division Three, Mabouya Valley defeated Entrepot 32 -18. The score line does not reflex how well the two teams played throughout the match. At the end of the first quarter they were locked at 8 -8, but Mabouya Valley with a strong following took charge of the remaining quarters as they led 16 – 9 ; 21 – 15 and final score 32 – 18.
For Mabouya Valley National shooter MerkesaTheodule led the shooting department assisted by Goal Shooter Sasha Louisy netting their team's 32 goals; whilst for EntrepotNalla Jules persevered with teammate Lian John to muster 18 goals for their team.
In the fourth and final game played in Division Two, new comers. Desruisseaux breezed past seasoned campaigners Avengers 47 – 34. Desruisseaux decked in an all gold attire led throughout 12 – 8; 25 -20; 35 – 30 and final score 47 – 34.
For Desruisseaux national player and captain Joann Anderson netted 9 from 20 attempts and Kimberley Charlery scored 38 from 48 attempts.
Scoring for Avengers national shooters Sherlyn John netted 12 from 21 and Kamala Mangal 22 from 30 attempts.
On the west coast in the fifth and final encounter played in Division One, Canaries playing with home court advantage and their crowd support behind them defeated the former national champions Shamrock 31 – 27. At the end of the first quarter Canaries led 9 – 6 but Shamrock fought back to lead the second quarter 16 -14 Canaries was not daunted, neither threatened by the two points deficit and with determination and perseverance the girls from the western village went on to regain the lead at the end of the third quarter 22 -20, finally winning the encounter.
For Canaries ChennaProspere netted 22 from 35 and Shenelle Francis scored 9 from 17 attempts.
Jacqueline Remy netted 3 from 4 attempts; Alexandrina Eugene scored 9 from 20 and Enalie John 15 from 25 attempts for Shamrock.