Points To New Investments Underway.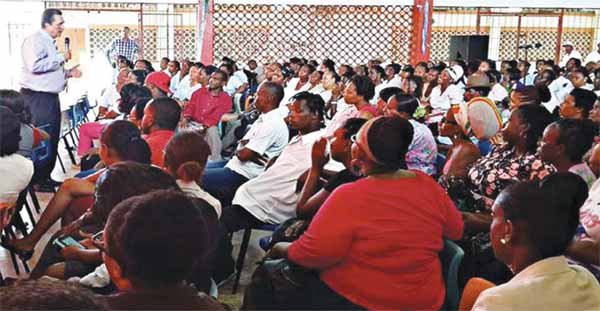 PRIME Minister Dr. Kenny Anthony said last week that the Government of Saint Lucia will continue to approach the problem of unemployment vigorously.
Dr. Anthony highlighted government's achievements in the area of employment, and said that he expects the unemployment rate to decline as new investments are made in the island in the months ahead.
"The Constituency Development Programme (CDP) is currently implementing projects in all seventeen constituencies," he said. "Over 3,000 jobs are created through CDP each financial year.
"A total of 520 young people have already gained employment under the Cruise Ship Employment Programme. In January this year 92 more young people secured jobs, and just last week, Carnival Cruise Lines appointed another 17. This is possible because we are making loans available for our young people to undergo training.
"In addition, over 5,400 people have been employed during the life of the NICE programme, with 162 currently employed in the Farm Labor Support Programme. Another 241 are currently serving as principals', IT assistants and in other posts under the Ministry of Education, while there were 1,155 jobs created under NICE to provide administrative support to various agencies such as the Registry."
The Prime Minister continued: "There are 82 playing field maintenance workers and 325 caregivers with the Home Help for the Elderly Programme, and the number [of caregivers] will soon increase by an additional 200.
"Between January to March, 200 were employed under the Youth Entrepreneurship Programme funded by the SLHTA; and STEP provides jobs to approximately 2, 000 people each cycle."
Dr. Anthony revealed that plans for the construction of a new hotel at Smugglers Cove in Cap Estate is expected to create about 1200 new jobs during the construction phase. He further spoke of government's initiatives in the areas of infrastructure and social assistance.
"Be it roads, water, lights, facilities, we will ensure that every sector and every community is taken care of. You have seen evidence of this: for the first time in the history of Saint Lucia, there is a special programme for the disabled. The families of disabled children now receive a $200 monthly stipend. In Micoud, a new school was constructed, a new access centre is under construction, and a new water tank will be installed in Desruisseaux, in Micoud south."
Dr. Anthony provided assurance that his administration will leave no one behind as it seeks to develop the country.
"We will cater to the needs of all because this is a Government for all the people," (GIS).