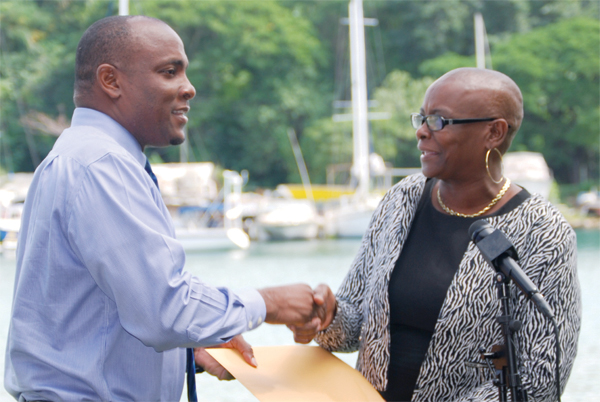 THE Coal Pot Restaurant was a hive of Olympic activity recently when the St. Lucia Olympic Committee held its annual luncheon to herald the beginning of the New Year.
Present at the function was Minister of Youth Development and Sports Shawn Edward, Chairman of the LOC for the Commonwealth Youth Games Richard Peterkin, SLOC President Fortuna Belrose, 17 of the SLOC affiliates and the local media fraternity.
Notable absentees were Life Saving, Cycling and Sailing.
Like previous years the event set the pace for 2015 as well as the conclusion of what has been deemed a challenging year for the Olympic movement in St. Lucia.
Addressing the gathering SLOC President Fortuna Belrose said: "What we were able to achieve in 2014 was significant for our athletes. We used the experience of Levern Spencer to develop a support system for elite athletes and were able to realize that aspect".
She continued: "The SLOC has also confirmed arrangements for the athletes commission for St. Lucia, later this year we will be in a position to launch the commission".
She said late last year the SLOC sourced the assistance from the International Olympic Committee to assist the SLOC in ensuring you the various presidents and secretaries with the core responsibilities within the associations deliver better on the obligations. The IOC has responded to the SLOC, that they will be working with us this year specifically to strengthen the capacity of our national sports federations leadership".
Belrose added: "The issues of governance, understanding your own strategic planning, your direction and where you headed will be coming to the fore with the SLOC during 2015, so the focus will be on the leadership of the various NSF's and ensuring that we meet the standard that is required of us as NSF's by the various international bodies".
Meanwhile, this time around there was no word as to the amount that was spent for 2014, compared to the whopping $883,697.00 spent in 2013. The SLOC President presented the Minister for Sports with the SLOC's audited statement for the year under review.
Belrose encouraged members present to do the same. She said: "One of the things we are critical about is the question of our NSF's actually preparing and delivering proper statements of accounts at the end of each year. It's not only in St. Lucia, it is a global issue. St. Lucia has proven to be a very good model organization for the IOC and the support being given to us is an indication that we remain on top of the game in so far as dealing with our international bodies"