Gros Islet Veterans and Sunday Krew from Trinidad and Tobago (T&T) stole the spotlight to emerge victorious in the respective categories of last weekend's entertaining Saint Lucia International Masters Football Invitational, at the Daren Sammy Cricket Ground [DSCG].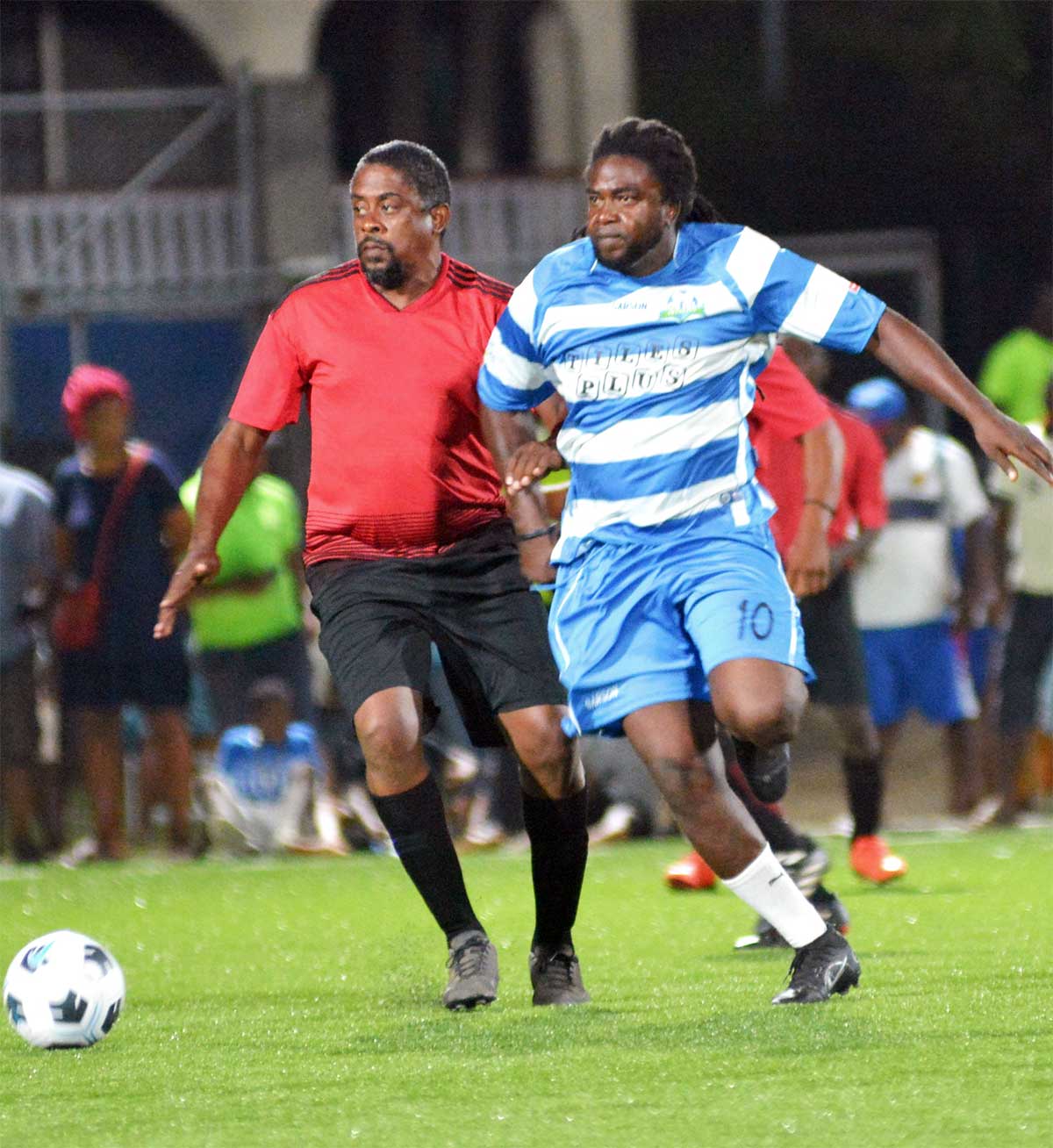 A total of about 25 teams participated in the three –day tournament, which began last Saturday and concluded Monday. There was much thrills and excitement for patrons to savour the challenges and tough sporting rivalry among the competitors.
The challenge kicked off at the Dennery Playing Field, on May 25 before the main draw moved to the DSCG for the three-day challenge.
At the end, Gros Islet stunned Era Masters (T&T) to retain their hold on the 40+ Trophy, while Sunday Krew (T & T)  beat out Masters Re-Loaded to cop the 50+ Masters Title.
Competing teams included; 40+ Category – Gros Islet Veterans, Era Masters (T&T), X-Men United Soccer Academy, Micoud Falcons, Marchand Veterans, Lancers FC, Mon Repos Sharks, Anse La Raye Veterans , All Blacks- Dennery, Soufriere Veterans, Valley Legends, Island Vibes Brotherhood, SLU Metals Central Vieux Fort , Vieux Fort South and CARICOM Masters.
50+ Masters Category – CARICOM Masters, Sunday Krew (T&T), Gros Islet Legends, Labowi Connexions, VSADC, North 50- Canada, Vieux Fort South Masters and Masters Re-Loaded.
After going through the preliminary rounds and qualifiers, Day #3 was set for the semis and grand finals.
In the 50+ Div.; Sunday Krew stamped their authority in the game with three goals in the first half of play for a convincing 3-nil victory. Earlier on, Masters missed from the spot with the custodian making a good save to deny Earl "Ball Hog" Jean a goal.
Sunday Krew capitalized on that slip and went all out to make the home team pay dearly for that costly missed opportunity. And though Masters displayed some good skills with their inter-passing it was not enough to get past Krew's defense as the 'Trinis' held on tightly to secure victory.
In the 40+ main attraction, Era Masters took the lead with Jean scoring off a header to the far post from a set play. He again featured in the thick of things and played an influential role in the mid-field play as well as injecting some spark to the offense. With a1-nil lead, Era Masters looked to tighten their grips on the game, but a rough tackle in the box gave way to a penalty.
Rafferty Noel, one of two substitutes brought into play in the latter session stepped up to the spot and coolly slotted in the equalizer to provide Gros Islet with the added impetus to push on.
However, with the scores locked at 1-all at regulation time, Gros Islet fancied their chances in the penalty kick tussle.
The home team with vociferous support from their fans were well rewarded for their efforts, with Noel leading from the front to convert the first penalty. From there it was a 'ding-dong' affair, but former national player Gros Islet's captain and goal-keeper Giovanni Deterville was splendid between the uprights bringing out some wonderful saves to swing the momentum in favour of his team.
In a post- match interview, Deterville expressed great joy that they were able to defeat their visiting opponents again, with the backing of a sturdy team that included some former professionals. Interestingly, national head coach Stern John was in action for Gros Islet and he gave a good account of himself and got into the challenges too.
"It was very tough …and all credit to the Trinidadian side," declared Giovanni. "They have some technical (skilled) players and they know how to possess the ball, but we just had to keep calm and keep our heads focused for that equalizer, and from there we moved on."
The tally of Winners in the respective categories, were as follows:
Over 50s:
Main Championship –
1st Place – Sunday Krew (T&T),
2ND – Masters Re-Loaded
3rd  – Caricom Masters
4th  – VSADC
Over 50s:
Plate Championship –
1st – North 50, 2nd – Labowi Connexions
Over 40s:
Main Championship –
1st – Gros Islet Veterans,
2nd – Era Masters (T&T),
3RD – SLU Metals Central V-Fort
4th – Sunday Krew (T&T).
Over 40s:
Plate Championship –
1st – Vieux Fort South; 2nd – Soufriere Veterans, 3rd – Marchand Veterans; and 4th – Mon Repos Sharks.