Another young Saint Lucian athlete has earned the opportunity to study and compete in the United States of America (USA).
The latest success is Saint Lucia Football Association (SLFA) Inc. Junior and Senior Female Footballer for the year 2019, Krysan St. Louis who left Saint Lucia recently for Texas A&M University which she will be attending.
Texas A&M is one of the many Universities competing in the National Collegiate Athletics Association (NCAA).
St. Louis's football career which span just over five years, started as a determined young striker as a former student of the Vieux Fort Comprehensive Secondary School (VFCSS), she will be pursuing her Degree in Business Administration with concentration in Marketing.
St. Louis started her career under the guidance of Physical Education teacher and motivator Emmanuel Belase who she credits amongst others for propelling her career so quickly.
"I would like to thank Emmanuel Belase, my games teacher from VFCSS, because if it wasn't for him I'd never be playing football for the Saint Lucia National team," she said.
She also credited the coaching staff of Victory Eagles, a female team, Jamil Joseph and Denroy Mathurin who worked with her over the past years.
St. Louis acknowledges some of her biggest influencers being senior men's player and captain of the Vieux Fort South team, Jamil Joseph along with the Saint Lucia Football Association (SLFA) Inc Technical Director, Ces Podd and her brother Trystan St. Louis who is currently at University in Louisiana.
St. Louis, along with Racquel John (defender) who also left the island, are the only female players from Saint Lucia to earn a soccer scholarship at Texas A &M University.
The pair now joins a long list of Saint Lucia female footballers at Universities in the USA: Samara Edward (VFN/Essex County College); Chresilda Cox (Anse la Raye/Bryant & Stratton College); Shaunasha Prevot (Soufriere/Golden Beacon College); Skye Gerald (Soufriere/ Talladega College); Lyla Lionel (VFS/Bryant & Stratton College); Marva Herman (Castries/Talladega College); Vionce Weeks (Castries/ Talladega College); Sylvie Willie (Dennery/ Mid-American Christian University); Nicole Montoute (Canaries/Talladega College); Kayla Camille (Micoud/Talladega College); Thai Fowell (Gros Islet/ Talladega); Naomi Henry (Canada/ St. Mary's Catholic Secondary School); Kwanzaa Prescod (Canada/Algonquin College);Andrianna Dmuchalsky (Canada/ Algonquin College); Faith Emmanuel (Laborie/Algonquin College); Eartha Pond (United Kingdom) and Cherielle Albert (United Kingdom).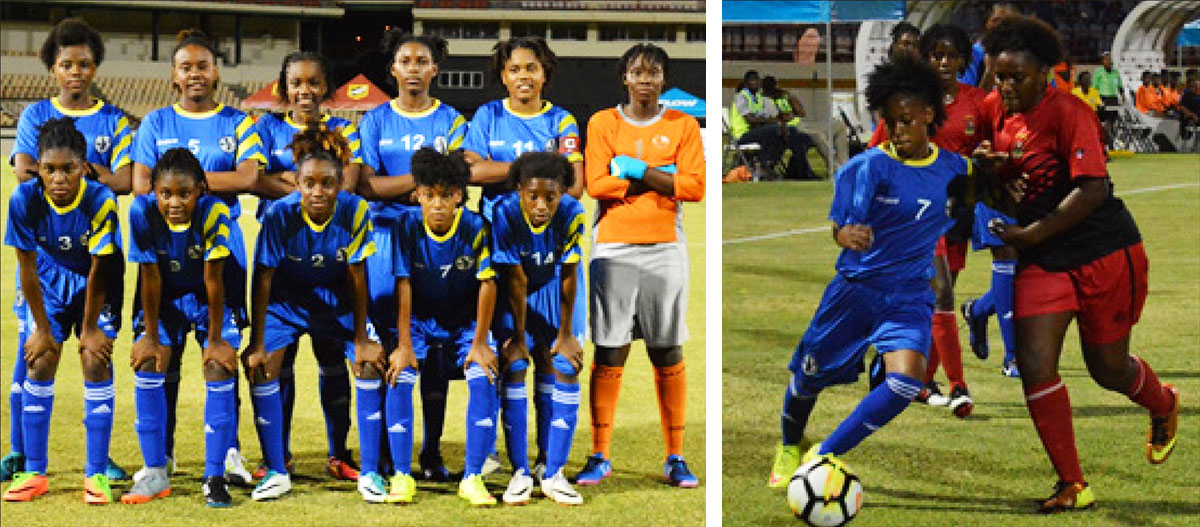 Soft-spoken and humble, yet very confident in her daughter's athletic and academic abilities, her, mother, Shenelle St. Louis said, "She is looking forward to achieving her Degree in Business Administration, while simultaneously improving her skills as a footballer so that she may earn a professional contract at the end of her studies or if football doesn't work out, become an amazing business administrator".
When asked how it all happened for Krysan, Shenelle said, "While she was playing in the CONCACAF tournament in 2019 either in Guyana or Honduras a coach from the University scouted her and was very persistent in recruiting her to A&M University as the university was granting female soccer scholarships and thought Krysan would be a good candidate".
At the 2019 SLFA awards Krysan hit the ground running and captured both the Junior and Senior Female Footballer of the Year awards. She captained the Vieux Fort South senior female team to second place finish (losing only on goal difference) in the SLFA Women championship.
St. Louis captained the National Under-17 female team during the CONCACAF Under 17 tournament in the Dominican Republic and ended up as the top scorer with eight goals.
She also captained the Under-20 World Cup qualifiers in Guyana, where Saint Lucia for the first time in its history, qualified for the second round of that tournament; she also ended up as the team's top scorer with five goals from four matches.
In 2019 she made her senior debut in Jamaica at the Olympic qualifiers where she ended up as Saint Lucia's top scorer with three goals.
Also in 2019, St. Louis scored 16 goals in 11 matches for Saint Lucia and 16 in 8 matches for Vieux Fort South scoring a total of 32 goals in 19 matches.
St. Louis also captured the 2018 SLFA Junior female footballer that year.