THE sport Sambo is coming to Saint Lucia on a professional level thanks to Trinidadian born Jason Frazer, who is the Vice President of the Commonwealth Sambo Federation and Vice President of the Union Pan American De Sambo for the entire region.
Frazer was on island to promote and also to speak to government officials about a major event schedule to take place later this year in Saint Lucia.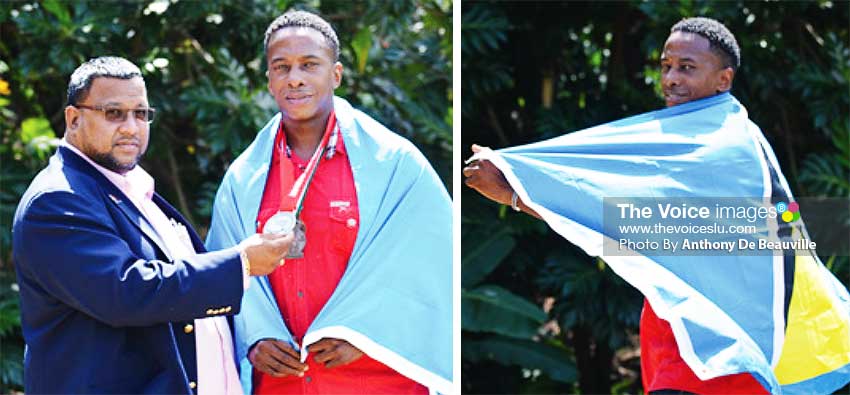 Frazer spoke to the VOICE about the International Open Combat Sports Championships and his plans to revive Sambo on the Island.
"I am on the island because we wanted to recognize the most successful athlete in Saint Lucia under Sambo who has won a silver medal in the Commonwealth and also a Pan American silver and bronze for the short space of time Saint Lucia was part of the International Sambo Federation (ISF) and that athlete is no other than Terry Agostiny," Frazer said.
"We are very proud of his achievement. Between 2013 -2017 the sport (in Saint Lucia) took a nose-dive until we were able to inject and finance it from the Russian Federation by providing tickets, hotel accommodation and full training equipment to Saint Lucia," he added.
"This year Terry will be representing Saint Lucia at the President's Cup in September in Scotland, also the Pan America Games in Calgary, Columbia, along with the World Championship in Russia; that was part of my purpose of being here to ensure he gets the recognition and to do our vetting on the federation and the growth and development (of the sport) in Saint Lucia," Frazer said.
"Secondly, I am here to talk about a major event that is coming up in Saint Lucia, of which I am the President of the Caribbean Combat Sports Federation. We have 21 countries apart of this federation; we have done this event in four different countries so far and this will be the fifth edition. I am here holding talks with government officials regarding it and the feedback is that they are welcoming it as sports tourism," Frazer said.
He added, "We are going to have a two day event of combat sports and will include the following – International Boxing, Amateur MMA – Female, Amateur MMA – Title Fights, Professional MMA – Title Fights, International Kick Boxing, Taekwondo Championship, Open Kids Karate Championship, International Beach Wrestling, International Sambo Championship, Caribbean Fencing Championship, Olympic Free Style Wrestling, International Open Grappling Championship and Caribbean Muay Thai Championship".
According to Frazer the event is going to bring the following countries to the shores of Saint Lucia – Antigua and Barbuda, Aruba, Barbados, Brazil, Columbia, Cuba, Curacao, Dominican Republic, Grenada, Guyana, Holland, Jamaica, Mexico, Panama, Russia, Trinidad and Tobago, Saint Kitts and Nevis, St. Maarten, Saint Vincent and the Grenadines, Suriname, United Kingdom, USA and Venezuela.
He said over 300 participants will be coming to Saint Lucia for this event. "We just don't want it to be an event where you come and compete and leave; we want to have tours and explore the island," Frazer said.
When asked what month the event will be hosted in, he said a date has not yet been set however it will more than likely be between September and October.
"I am here to see the groundwork and see what the sport is like, how many clubs and how popular martial arts is in the country so we could re –ignite it," he said.
VOICE: Who are some of the stakeholders you're looking to partner with?
Frazer: "I have met with a few stakeholders and everybody has welcomed it, but there is a lot to be done. The next step is to find the synergy between the Ministry of Education and the Ministry for Youth Development and Sports; the latter really love the idea, they see the big sport Tourism aspect of it but we need the Ministry of Education to actually have 24 schools to adopt 24 countries, so you could have at least 50 students supporting".
VOICE: In terms of level of coverage?
Frazer: "There is live coverage for 55 countries and others because we have done it before in the past. We are not talking about delay broadcasting (but) real time broadcasting. Throughout the morning and mid – afternoon we do the preliminary rounds and in the evening we carry all the finals in the various disciplines".
VOICE: In terms of venue?
Frazer: "From coming to Saint Lucia I am seeing the state of the sport here, I have been discussing with government officials. I would prefer to do it free to the public in Rodney Bay, close off that street let us put down the Boxing Ring/Cage between Massy Stores and Bay Walk and just have it like a family outing instead of taking it into the Indoor Facility, my only concern is if rain falls knowing it's that time of year, again the only venue that can suit it the Indoor Facility".
According to Frazer as much as he has some big names coming for the event the focus will be on the youth. "The focus will be on the youth and the schools, even though we don't continue with this event it must not be a one off. I would like to see coming out of it, more Unity amongst the Martial Artists in Saint Lucia, so if we have that Unity they could carry on. We are moving around the Caribbean, country per country, which ever country that want to host, we will allow them to do it". noted Frazer.