LAST Sunday evening was indeed a glorious one for local designers of clothing, jewellery, handbags and more as they displayed their designs in style to an enthusiastic and appreciative audience at the City Hall in Castries.
It was a fashion show with a difference in that small business entrepreneurs were the ones showcasing their designs which were modelled by Saint Lucians of all shapes and sizes proving that the average woman, whatever her shape or size, could step out in style and in the fashion of the day.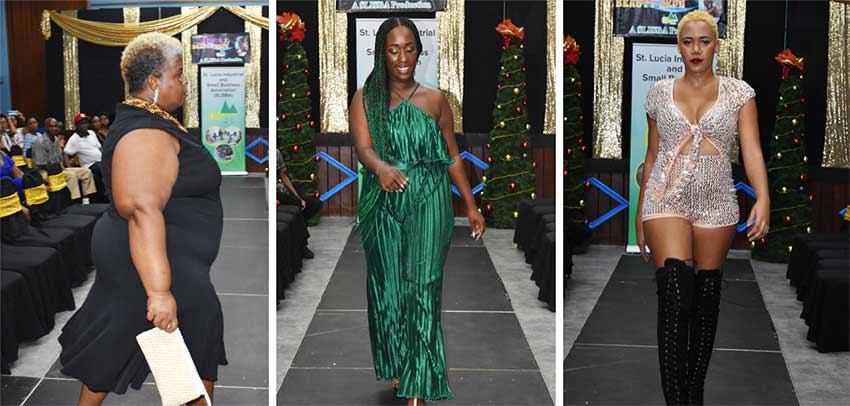 The fashion show was organised by Saint Lucia Industrial and small business Association (SLISBA). The quality of the designs in the various styles displayed showed proof of the vast wealth of talent amongst Saint Lucians.
From Ursline's Fashion Boutique in Castries and Soufriere came designs that produced the wow effect. That same effect was also had on the audience by designs coming out of Unique Zee – a business owned by Zerina Clerice; Belle Lici Designs – a family supported and female run business that deals in skilful handcrafted crochet products, hand and clutch bags, dresses, footless sandals, necklaces, earrings, bracelets, bowties and more; Shanii Mesmain, a 24-year-old who specialises in high-end quality hand-wrapped jewellery and who owned a business called COTCHJEWELRY.
Amazing as well were the bags, totes, clutches and coin purses and passport holders on display by Kerlyn Viville, owner of a business known as K.Vive. And there was Christine Samuel, with her unmatched creative original designs in bags that reflected vibrant Saint Lucian/ Caribbean artistry and beauty.
Those small business people may be small in size but in vision and originality, style, fashion and beauty of product they are all in the same sphere, a case clearly seen last Sunday evening that said that the SLISBA fashion show was indeed a hit, worthy of a second showing.