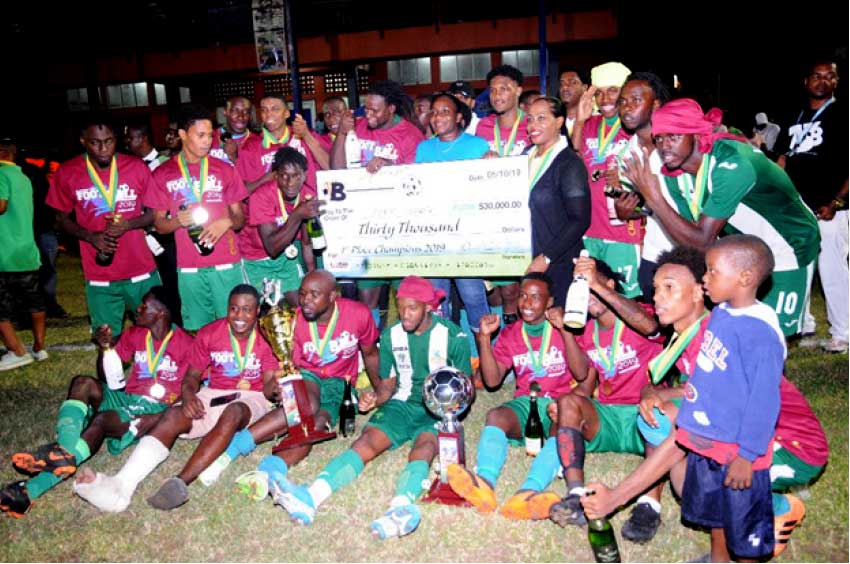 VIEUX FORT South are champions once again; not one, two or three times, but four times. The team literally has not lost a game in four years. Well the news is out and you better believe it. It's their fourth consecutive time winning the Blackheart Knockout Football championship, never before in the 17 years of the tournament has a team done that. It's a tall order; which they achieved last Saturday evening at the Phillip Marcellin Grounds (PMG) in Vieux Fort.
Decked in their customary green and white attire VFS defeated their noisy neighbours and arch rivals and two time champions Micoud 3-1 in the final before a large crowd who came out to support their respective team.
It was in similar fashion as the semifinal; the defending champions VFS were quick off the block when Noah Nicholas opened the scoring in the 8th minute. Fifteen minutes later VFS extended their lead when their prolific striker Antonio Joseph silenced the Micoud fans when he made it 2- 0 starting off a party style holiday weekend celebration for the VFS supporters, including their parliamentary representative Dr Kenny Anthony, at the end of the halftime whistle of referee Kim Charlery.
On the resumption, and with all to play for with a two goal advantage, the defending champions continued to add on the pressure, while Micoud never for once allowed their heads to dip to the ground, their confidence was high as they looked to reduce the deficit. Their perseverance finally paid off when they pulled one back via a penalty when Kyran Mathurin made good of the penalty kick making it 2-1 in the 81st minute.
With nine minutes left of regulation time, Micoud had their chances to equalize; however, they were made to pay as a late goal by Jervick McFarlane in 90+2 minutes of added time sealed the victory giving VFS a 3-1 win and a chance to hoist the 2019 trophy.
Following the rivalry between the two sides, VFS Coach Uriah Samuel said: "I like the fight, from the very first whistle everyone was programmed and ready and they executed, and look at the result now, 3-1."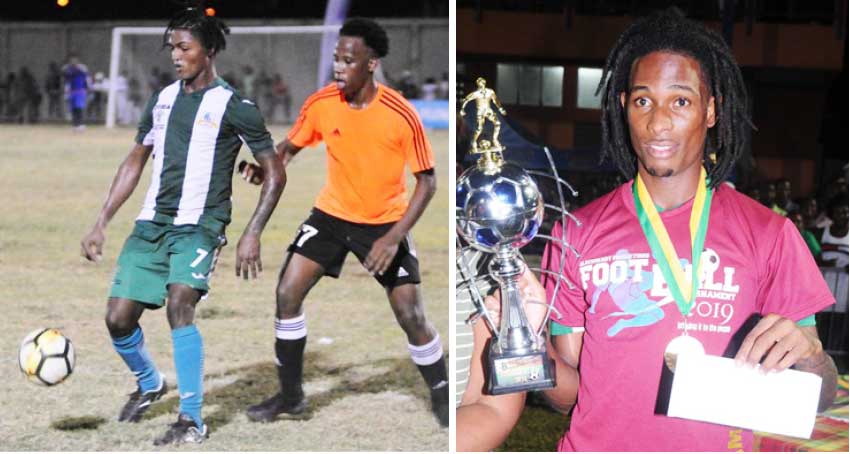 Having now won the competition for four consecutive years, how likely is number five? Samuel replied, "There is always room for improvement you know, it can always happen. We have young guys here; as long as they stay together we should be alright."
VFS Captain and former national player Jamil Joseph said, "This one was a tough fight; we had to work hard because all the teams were coming after us. They thought we were complacent because we won three already and would not win the fourth one, so it was a challenge for us but we came through again as champions."
Blackheart Productions CEO David Christopher took the time out to congratulate VFS for the victory and said, "Four in a row is history and I don't know who is going to beat this team. They are starting to age like wine. The longer they stay together they get better and better."
For third place silverware, former three time champion Mabouya Valley defeated Marchand 3-2. Nick Mondesir led the way for Mabouya Valley with a hat trick.

For Marchand, the goal scorers were Ferguson St Claire and JnaiLesmond.
After the showpiece and excitement on the pitch, the following awards were presented: Best Coach, Carlus Monchery (Desruisseaux); Fastest Goal, Antonio Joseph (VFS); Most Spectacular Goal, Dius David (Mabouya Valley); Best Goalkeeper, Marcus Marquis (Desruisseaux); Best Defender, SarnSavery (VFS); Best Midfielder, Gregson President (VFS); Top Goal Scorer, Nick Mondesir (Mabouya Valley); Fair Play Trophy (Central Castries); Tournament MVP, Antonio Joseph (VFS).
For winning the 2019 tournament, VFS received the championship trophy, gold medals and a cheque for EC$30,000.00. In second place Micoud received a trophy, silver medals and a cheque for EC$10,000.00, and in third place Mabouya Valley walked away with a trophy, bronze medals and a cheque for EC$5,000.00.