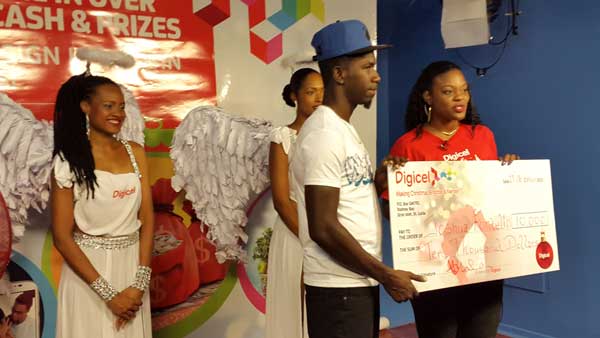 JOSHUA Fontelio has become the first winner in Digicel's "Brighten Your Christmas" cash prize giveaways of over $200,000.
To qualify to win, customers must simply top up $10 or more, activate a Data Lite plan, postpaid customers pay their bill in full by the 26th or by simply joining the Digicel family.
During Digicel's inaugural Christmas TV programme live on Choice TV, 'Brighten Your Christmas' hosted by Massana Morrison on November 20, Digicel delivered the fantastic news to Fontelio of his winnings of $10,000 in cash.
Fontelio, a resident of Vieux Fort remained speechless and completely shocked by the news. Upon receipt of his cash he expressed immense gratitude to Digicel saying: "Thank you so much Digicel. This could not have come at a better time. Thank you for making my Christmas this bright this early."
Last Friday Digicel rewarded two more lucky customers, Michaela Thomas and Ervan Edward with $10,000 cash each.
Customers have also been rewarded with daily prizes of gas vouchers, grocery vouchers, credit vouchers and Digicel gifts. Digicel will continue giving away daily prizes plus $10,000 cash every week till the end of year in the promotion.
Marketing and Communications Executive at Digicel Miss Louise Victor, also expressed her excitement about the promotion and the amazing rewards being delivered to customers. She said: "In launching this campaign at Digicel we wanted to ensure that we continue to reward our customers in the most extraordinary way. We are cognizant of the economic pressures which exist and want to ensure that our customers enjoy a brighter merrier Christmas and festive season in every way".