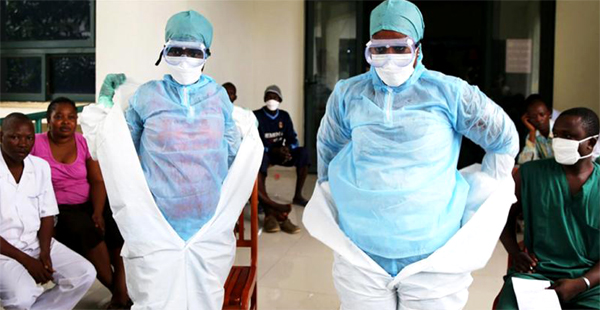 THE Ministry of Health, Wellness, Human Services and Gender Relations staged a pilot Ebola simulation drill yesterday, at the Gros Islet Polyclinic.
The objective of the drill was to enhance Saint Lucia's state of preparedness for all diseases of public health concern, with particular regard to infection control and universal health preparedness.
The simulation exercise tested the St Lucia health team's ability for early detection and isolation of a potential Ebola patient, the patient's transfer to a treatment centre, contact tracing and communication methods, and the correct way to put on and remove Personal Protective Equipment (PPE).
The drill ended on receipt of the patient 'actor' at Victoria Hospital by the simulating health team.
While St. Lucia continues to remain at low risk to the threat of the Ebola Virus Disease, the Ministry of Health said that preparedness efforts and working in partnership with stakeholders was essential.