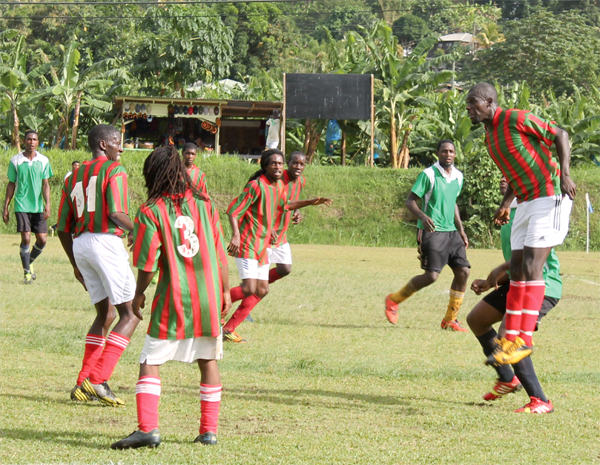 A total of 17 goals were scored in four matches as football action continued in the South Castries/Roseau Valley sponsored Total Construction Limited competition this past weekend at the Marigot Playing Field.
On Saturday, Marigot FC defeated Dominators FC 4 – 0 in a one sided affair. Scoring for Marigotwere No. 14 Gabriel John in the 19th and 44th minutes and No.9 Mandella William in the 36th and 46th minutes respectively. The half time score 3 – 0.
In the second encounter MYO FC had the better of Millet FC 5 – 3. Scoring for MYO FC were No.16 Allen Octave in the 6th minute, No.10 WinsleySonson in the 15th minute, No.9 WindellSilvent in the 47th, No.15 Delvin Emmanuel and No.4 Glen Emmanuel in the 60th and 87th minute of play.
For Millet, the goal scorers were No. 10 Travis Yard in the 1st and 16th minutes and No.17 Tyran Augustin in the 75th minute. The half time score 2 – 2
On Sunday, Sarrot Scorpion FC defeated J`Connection FC 2 – 1. No. 13 Ismaheal Hunter put SSF in the lead in the 5th minute; SSF surged ahead when their No.10 Gary Lubrin struck in the 24th minute to leave the halftime score 2 – 0.
The resumption saw some urgency coming from J'Connection players as they pulled one back through No.23 Damain Lewis in the 53rd minute and that is how it stayed at regulation time.
In the final game, Trois Piton FC and OBLA FC played to a 1-1 draw. No.19 Aristole Chandler opened the scoring for OBLA in the 34th minute, while No.8 Brian Rameau equalized for Trois Piton in the 54th minute. Halftime score 1- 0 in favour of OBLA FC.
Meanwhile, matches continue on Saturday. J'Connection will play RV Juniors from 2:00 p.m. and Marigot plays Millet from 4:00 p.m. On Sunday, Sarrot meets T Valley at 2:00 p.m. and CT Foundation meets MYO at 4:00 p.m.