POLICE Commissioner Severin Moncherry is on the warpath.
In a no nonsense speech made at a press conference at Police Headquarters, Chasterfield yesterday, he warned criminals and persons bent on executing violent crimes that the police force will stop them even if it means taking the fight to them.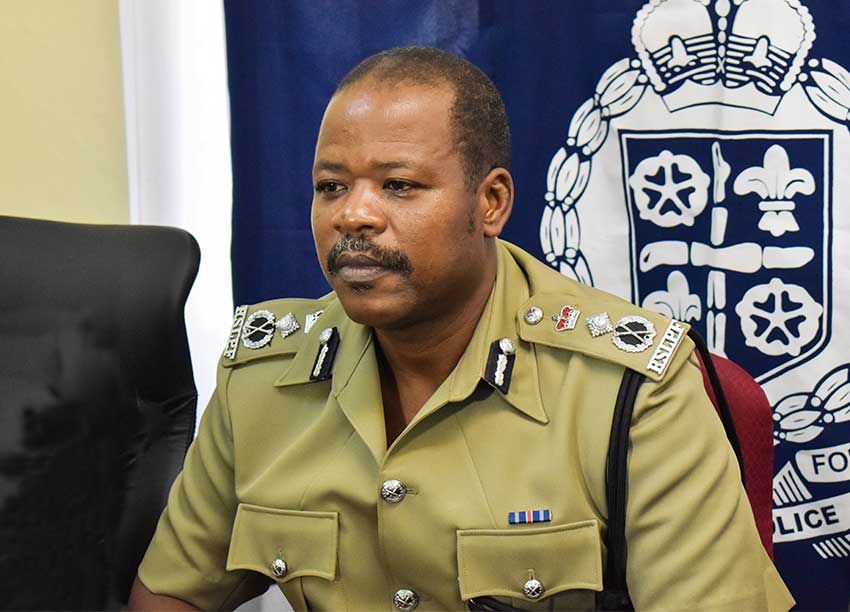 With 41 homicides recorded to date, most of them through the use of guns, the island's top cop said that after talking the talk it was time for police to walk the walk.
"I first take the opportunity to extend sympathies to all who've lost their loved ones. It is rather sad and unfortunate that we've lost so many lives through violence. One death is too many, far less 41.
"The Royal Saint Lucia Police Force (RSPLF) will not allow a handful of incorrigible rogues to risk the lives of our people and spoil the good name of our sweet Saint Lucia. We will not surrender, we will not retreat, we will take the fight to those rogues and would be criminals using every bit of resources available to us," Moncherry said.
Moncherry's made his comments amid a spate of deadly shootings in and around Castries over the past few days, which has resulted in the rise in homicides.
"We have talked the talk, it is now time to walk the walk," he said in reference to the men and women making up the Royal Saint Lucia Police Force.
He also said the crime situation has gotten to a point where even police officers are being threatened.
"There is no guarantee that in executing the new plans in place to reduce such violent crimes that they may not be collateral damage. I call on all members of the public to join in this fight by providing whatever information is necessary to assist the police. Members of the public can call the crime hotline 45-CRIME or 452-7463," he said, calling on all Saint Lucians to assist in making Saint Lucia as crime free as possible.
"It is our business; Saint Lucia belongs to all of us and if we are going to depend on tourism, agriculture and other forms of revenue we need to ensure that this community, this sweet Saint Lucia is safe for all of us," he said.