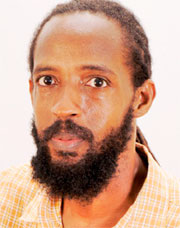 OFF from reading The Wine of Astonishment by Earl Lovence and At the Rusting Gate by Charles Cadet, Torn Between Two Lovers by Claudius "Peto" Francis was my next scheduled reading. After all I had promised my colleague, that I would read his book and for those who know me, they would know that I always TRY to keep my word. (My word is my strength, not my hair).
I was moving from the realm of fiction to nonfiction and I wondered if my excitement would be sustained. I glanced at some page at the begin, read a paragraph or two and put the book down and got to doing other things. "Would this book sustain my interest?" was the question on my mind. Whether it did or not, I had made a promise to my colleague.
I took the book along with me and had it exposed (had not started my task of reading it as yet). A lady saw the book in my hand and read the title and went, "Hmmmmmm". It was then I appreciated the intrigue of the title. "Torn Between Two Lovers"! I had to start my reading. Who could those two lovers be? I wanted to find out.
The beginning took me to a time before my time and pinged the introduction on an extraction from a song that I don't think I had ever heard. The song was an oldie goldie, even before there were oldie goldies, so you can forgive me for not knowing the lines (Torn between two lovers/ feeling like a fool.) The setup was captivating in the Author's Note. I was on to the other chapter without even knowing, more so of how the chapters were laid, out but I was hooked. The book was no romance novel but it read like one and I don't like romance novels anyways. I got through my reading in two days. The book is about organizational concepts which is well wrapped in an apt metaphor of a love relationship. It is a book that anyone in a leadership/managerial position should read. The unsuspecting and potential employee should read so that he or she understands the complexities he or she is in, or maybe entering into, if in or taking up a job. The jargon of organizational behavior theory is well laced into the captivating writeup. The author writes like he is having a conversation with the reader. The narrative does not move too quickly and it is well punctuated with humour.
The writer is sharing a personal experience from which the reader can draw his own lessons. The author also shares his own lessons learned from the experience. I thought though that the writer could have laid in more detail the perplexities of the confusion, maltreatment and malfunctions that he experienced. I gathered that it was an arduous undertaking in his post as Regional Training Co-ordinator.
I enjoyed when he transfered the lessons to be learnt to our Caribbean political situations. In the long run it is never beneficial to take neutrality stance in a compromising or any given situation. By challenging the status quo the author was able to steer two organizations on the right course even if he ended up as the sacrificial lamb in the entire quagmire.
I have always said that in the Caribbean we cannot just be consumers of information, we have to be producers as well. Claudius "Peto" Francis in his book Torn Between Two Lovers seeks to answer questions on a global plan and any businesses, local, regional or international looking to effect a merger can use well his resources and wealth of knowledge in effecting a proper transition plan. His love for the area of organisation behaviour and setup reverberates as a passion in the over 80 pages of exceptional expository writing. Thanks for sharing Claudius.