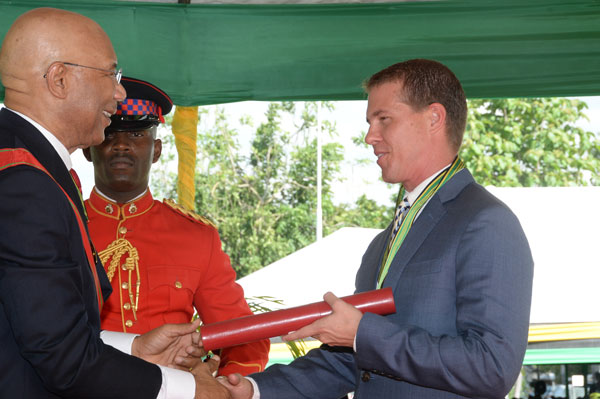 Deputy Chairman and Chief Executive Officer of Sandals Resorts International, Adam Stewart, has been conferred with the Order of Distinction (Commander Class) for outstanding contribution to Jamaica's tourism and the hotel industry.
The Order of Distinction is a national honour conferred by the Government of Jamaica upon citizens who render outstanding and important services to the country. The motto of the Order is "Distinction through Service".
Stewart was officially presented with the insignia yesterday, National Heroes' Day, at the National Honours and Awards Ceremony held at King's House, the official residence of the Governor-General.
Stewart was among several Jamaicans to receive national honours in recognition of their contributions to various sectors, ranging from education, health, agriculture and, of course tourism.
Stewart, who has been at the helm of Sandals Resorts International for the last 10 years and has filled multiple leadership roles within the sector, including First Vice-President for the Jamaica Hotel and Tourist Association, said he was humbled to receive such a prestigious award.
"I am humbled and honoured to be bestowed the Order of Distinction, Commander Class by the Government of Jamaica," he said. "I am very proud to be Jamaican and having the opportunity to contribute to my country's development and to the development of the region through tourism is something I'm very thankful for and something I take very seriously. I want to say thank you, Jamaica, thank you to all my amazing teams across our group of companies and across the region and thanks to my amazing family."