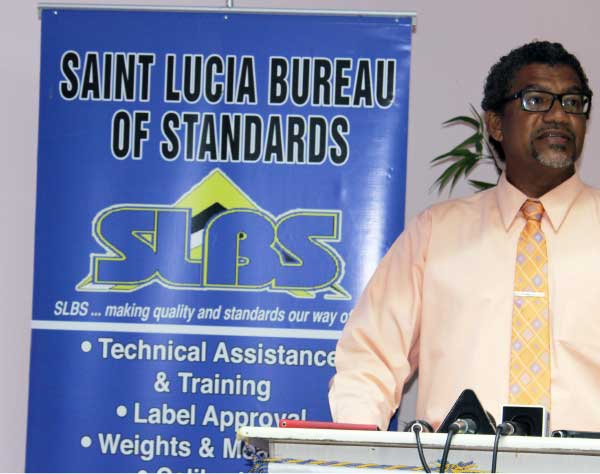 THE local media was the focus of the Saint Lucia Bureau of Standards yesterday in its observance of World Standards Day.
But even as they enjoyed brunch and exchanged thoughts, they were reminded of the hurdles Saint Lucians still need to conquer to help solve old and new problems facing them, problems that if not resolved, could lead to continued chronic poverty in the society and inefficiency in production systems.
Bradley Felix, Minister in the Office of the Prime Minister with responsibility for Commerce, Industry, Investment, Enterprise Development and Consumer Affairs, believes that one such hurdle is convincing Saint Lucians that products and services produced in Saint Lucia by Saint Lucian companies are just as good as those imported. He said that in some cases the locally-produced products are even better and that the issue of standards makes the difference between a declining society and a progressive one.
Felix, who joined the gathering at the Bureau's offices at Bisee, said that "it is the increasing use of standards in our production systems that will instill trust in our people that our companies are producing safe and reliable goods and services and therefore deserving of our full support."
He added: "In many instances, especially in the food sector, buying locally-produced goods means that we are buying a fresher product vis-à-vis an imported one."
Felix said that distinction should be sufficient incentive to purchase local produce as the quality is likely to be more wholesome.
"Issues such as poor packaging of locally-produced goods give the impression that local products are somehow inferior to the imported identical or similar ones. The introduction of standards in the area of packaging therefore helps build confidence and trust in what is produced locally and consumers would then purchase local goods over the imported ones," he said.
Felix believes that by Saint Lucians buying more of what is produced locally, local companies will produce more and hence expand their processes and provide more jobs.
"The use of standards, therefore, is central to addressing issues of unemployment and poverty," Felix said, adding that standards are also vital to building competitiveness.
He emphasized that standards and standardization are necessary since by "the widespread adoption of standards in all our enterprises is one of the tools that must be utilized if Saint Lucia is to reposition itself in today's very competitive world."
The Minister was not alone in singing the values of standards. The Bureau's Head of Information, Virnet St. Omer-Fontenelle, also noted the value of standards in the way human interactions have evolved and the ease with which humans communicate with each other.
"Where media has made this world a global village, our global village could have well been the Tower of Babel had standardization not intervened," she said.
St. Omer-Fontenelle drew the attention of media practitioners present to the importance of their work as it relates to standardization, noting that without the media, people in societies would be isolated, not only from the rest of the world, but also from the total formation of a credible world.
"Who will know how amazing standards have made our world if you don't continue to tell our story? We are grateful for the work you have done so far," St. Omer-Fontenelle said.