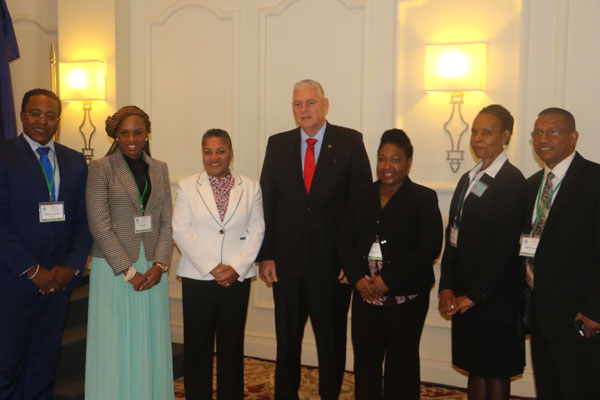 Speaking at the opening of OECS Bar Association's 13th Regional Law Conference, Prime Minister Allen M. Chastanet said that the Government recognized the importance of investing in the judiciary and gave a commitment that the justice system was high on the priority list for Government.
The conference, which is being held from September 16-18th at the Sandals Grande St. Lucian Spa and Beach Resort, brings together regional and international members of the law fraternity.
The Prime Minister made his remarks during the event's opening ceremony to the captive audience of legal minds.
"I am acutely aware of the many requirements that are necessary if we are to reach a situation where we can assure that the facilities for the dispensation of justice are at least commensurate with minimum acceptable standards," said Prime Minister Chastanet. "In Saint Lucia conditions are still far from what is ideal or even what most persons would be comfortable with. These conditions did not materialize overnight. They are the result of many years of lack of investment, or insufficient investment, in the institutions of justice. We can no longer continue to ignore this since it will not go away."
The Prime Minister stated that the state of justice system also affects assessments by international agencies, especially in matters relating to the dispensation of justice and the state of the protection of human rights.
"As a government, we have recognized the importance of investing in the judiciary and have given the commitment that we place these issues very high on the list of priorities which we must address," he opined. "The challenge, therefore, is how best we can improve on what we have now in the short term as
we work towards the long term solutions. This we are doing and will continue to do in collaboration with all the parties and after due consultation."
The Prime Minister said he was also pleased that the agenda from the conference included discussions on the use of available technology to improve processes and procedures for the dispensation of justice within the law.
Chastanet wished the attendees a successful conference and hoped that their discussions would benefit the entire justice system in the sub region.