AFTER a nine day break for the Jazz Festival, the Vizions Entertainment Football Super League resumes this evening at the Gros Islet Playing Field with match day 11.
In Group 3, from 6:00 p.m. – Central Castries meets La Clery in a must win situation for either side to top the group.Both teams are currently on 6 points but Central Castries are ahead on goal difference +4.
Also interesting in this Group, the defending champions Gros Islet are on 6 points as well from three matches and will play their final game on Thursday against Central Castries in what is expected to be a thriller.
The scenario for this encounter looks like this: – if Central Castries wins today they will top the group, likewise La Clery. If the match is drawn they both will end up with 7 points with one match on hand. So it will be rather important to see how these two Castries teams play each other on a surface that is dry, hard and dusty, but one thing for certain the ball control will be difficult as the surface is lightning quick.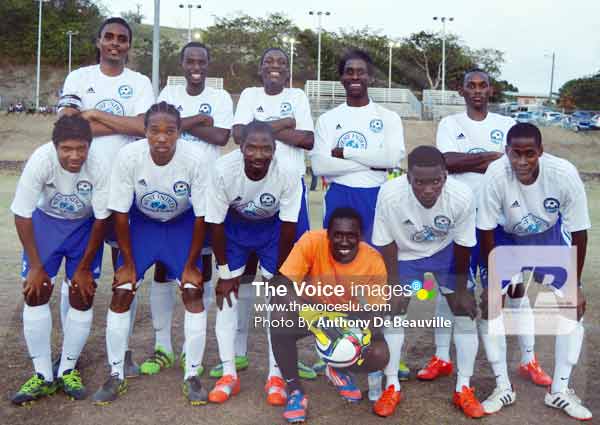 For Central Castries Coach Carson Miller will want to depend heavily on his scoring trio from their last game against Choiseul when they won 3 – 0 at the same venue. No. No.16 Lael Cherry, No. 10 Shaquille Joseph and No.18 Brynn Walker, along with the experienced No.11 Steve Henry: No.9 Baggio Lewis and goalkeeper No. 01 Kennedy Duncan.
La Clery, on the other hand, have not conceded a goal from their two matches played thus far as their defence has kept the opposition strikers at bay, but at the same time have enjoyed a bit of luck on the square. One expects them to come out firing at their long time arch rivals CC with the likes of No.11 MacGyver Raymond, No.6 Herman Gustave, No. 8 KerwinBiscette and No.26 Trevon St. Prix.
In the second encounter from 8:00 p.m. South Castries plays Choiseul. Both teams will be looking to collect their first points in the tournament. Its anyone's guess as to which will win the bottom of the table clash.
To date a total of 75 goals have been scored in the preliminary round.