UNDER near perfect weather conditions hundreds of sports loving fans, government officials, family, friends, President of the Caribbean Boxing Association, sports clubs and members of the media gathered at the Beausejour Cricket Ground last Friday to bid farewell to wellknown Radio St. Lucia Sportscaster, Brian Mc Donald.
McDonald passed away on Sunday January 17 in Soufriere while on a work assignment. He died of a heart attack and his body was laid to rest at the Gros Islet Cemetery.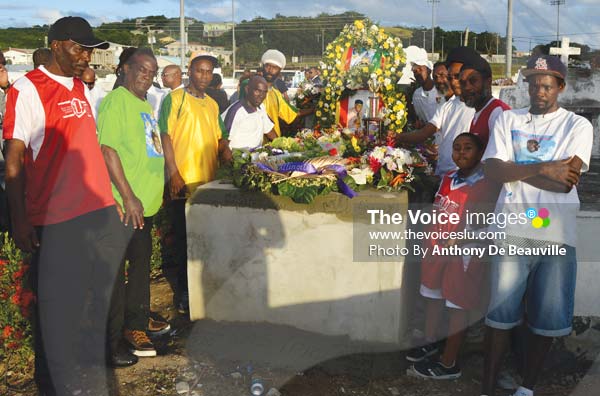 Speaking at the service Roman Catholic priest Rev. Father Ignatius Cetoute described Mc Donald as a service oriented man, in his work as a sports announcer, adding: "And we heard in many of the tributes that were given here today, he did it with a passion; he did it with love. He did it in a way that – I know for myself when I listened to him, I was actually imagining myself on the field or in the place, or at the stadium where the activity was taking place. He used such pictorial language; he used such descriptive language that you actually believed that you were present at the very moment. That was his area of giftedness in service to the people of this country. He trained himself professionally in this arena in order to bring sporting events alive and elated to all listeners both far and wide. I want to ask us today."
In his liftetime, Mc. Donald was associated with a number of sporting organizations and teams in one capacity or the other.