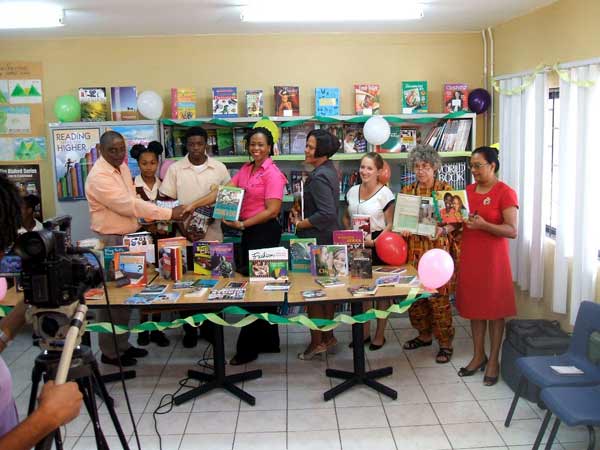 LIME has teamed up with the American NGO Hands Across the Sea to support child literacy in Saint Lucia by establishing a lending library of new top-quality fiction, non-fiction, and reference books for the 200 students of Choiseul Secondary School.
LIME provided a cash contribution to assist with the purchase of the books for the school
Hands Across the Sea is dedicated to creating, refurbishing and rejuvenating school libraries throughout the Eastern Caribbean.
"We salute LIME Saint Lucia and their generous support of Hands Across the Sea's CLASS (Caribbean Literacy and School Support) Programme in St. Lucia," said Harriet Linskey, Co-Founder and Executive Director of the child literacy organization. "Our partnership with LIME Saint Lucia is tightly focussed on raising child literacy levels – the skills of reading, writing, analytical thinking, and much more – that form the crucial foundation of every child's educational development.
"We believe that LIME's investment in child literacy, by funding new, targeted reading and reference books for Choiseul Secondary and ongoing mentoring of the library by Jacqueline Vidal-Atherly, the Hands Literacy Link for Saint Lucia, will benefit the students and the island greatly," Ms Linskey added.
Since 2010, Hands Across the Sea has created or rejuvenated lending libraries at 63 schools and reading groups across St. Lucia, and has sent 44,730 new, top-quality books requested by educators, serving 17,230 children. The books are brand new and sourced from some of the world's leading publishers.
LIME Commercial Lead, Cheryl Francis commended Hands Across the Sea for developing the book distribution programme, adding that it was helping to change lives.
"We want to commend Hands Across the Sea for the great work they have been doing. This is a phenomenal initiative that will help to ensure our children grow up reading. LIME is immensely proud to be associated with the project. The ability to read is fundamental to the development of a nation. There's a huge need and a huge opportunity to get every child in St. Lucia connected with great books, and to help them develop a love for reading," Ms Francis added.
Over the years LIME has invested hundreds of thousands of dollars in providing internet and other forms of telecommunications support to local schools and libraries. LIME has also supported numerous educational and recreational programmes, including sports in schools.
Recently the company partnered with US Peace Corps Youth Development Volunteers and local educators to launch a Primary Literacy Project in Babonneau.