John Robert Lee's Latest Book Of Poems Reviewed by KENNEDY 'BOOTS' SAMUEL.
I LOVE many things about Saint Lucian poet John Robert Lee's latest publication, "City Remembrances", which has been published under his own Mahanaim Publishing, Saint Lucia. The apparently modest forty-two paged book of poems turns out to be so much more than just excellent Saint Lucian poetry in English. Yes it is undeniably a pleasing literary gem that twists all over with unique Saint Lucianess. But additionally it should be appreciated as an informative document on Saint Lucia that spirals with creativity of the word, sociological content, honest emotions and spiritual meanings.
A most intriguing spiral image anchors structure and meaning in the book from the very first poem entitled "Spiral". We feel a twirling of history, culture and community as
"serious roots thrusting
us around today, tomorrow
to come here again yesterday, another furrow
another spiral turning up the past."
The poet takes his readers on a swirling personal journey that does not forget the past, but deliberately churns it up within today's reality towards an affirmation of the defining spiritual realm beyond it all.
We spin through SPACE and TIME in the city of Castries, Saint Lucia, immortalizing with intense metaphoric and spiritual beauty some local cultural icons who pop up along the spiral. We encounter the poet Robert Lee of course, and Gaboo the maestro musician of Broglie Street, the Nobel Laureate Hon. Derek Walcott, the writer McDonald Dixon, a stranded shoemaker near Victoria and Chisel Streets, and many other personifying portraits of historical Castries. My favourite encounter is one that spins into celestial realms in the poem "Canticles for Dunstan St. Omer 1927 – 2015", where we meet the revolutionary Catholic religious artist from the Castries CDC housing:
"Before he was Madonna's, He was the Father's Son" (pg. 17)
The late Sir Dunstan St. Omer is literally beatified as a true Saint Lucian saint: "Saint Omer".
"Down to earth, He lived
like you, paint on His hands, among farmers and fishermen
raising them to Himself – Wonderful, Immanuel."(pg. 18)
There is no particular historical time focus on this journey but more on existential fact. We move around in the past, and the present as we tour Castries city spaces such as Pigeon Island, Broglie Street, Jeremie Street, Waterfront, or the perimeter hills from 'Mount Pleasant to Morne Du Don to Morne Fortune." We encounter the tangible such as 'childhood sidewalks' of the past, as well as the intangible such as disappearing faith and art around the seventy year old poet McDonald Dixon on Jeremie Street.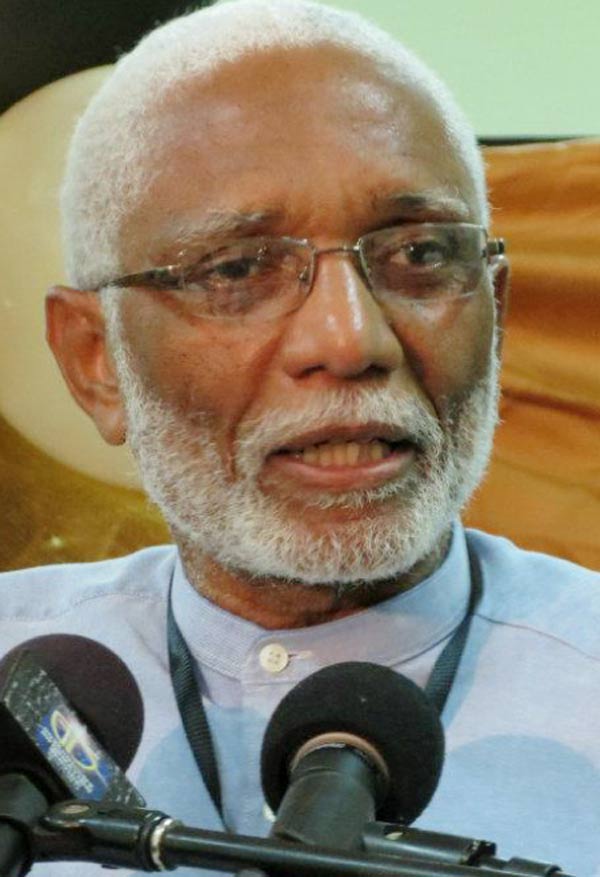 "I must imagine you now
walking away
towards the waterfront
and vendors' arcade
turning, out of site, down Jeremie Street." (pg. 11)
We then pedal backwards on our journey past 'yesterday's yesterday' and 'tattered manuscripts'; but we are steadied with a faith that's 'beyond talent, beyond award, beyond tomorrow's tomorrow'. (pg. 12).
Robert Lee, the experienced word crafter has in his book documented aspects of the history, culture and arts of Castries using symbolically loaded "currents of the turning image". His overriding objective however, as a foremost Saint Lucian Christian poet, is one of "crafting canticles of what I see". (pg.33)
Unhappy with the dizzying 'downtown frenzy', 'frenetic sirens', 'hustlers' and 'repetitious livings' that now overrun 'the long-time jalousies, and collapsing fretwork of old Castries', the poet proposes an innovative Christian solution of "Sabbathing Wednesday". He wants a midweek platform of rest within the spiraling madness in modern day Castries:
"Yes, Wednesday for Sabbath,
resting centre of the week". (pg. 13)
The poet himself marvels at the spiritual potency of his word crafting and leads in beautiful praise song to the creator from the artist and evangelist
"Ah, Holy Spirit,
how could I have scrolled such mighty things
if You, Cantor of Heaven
had not breathed your sweet psalms
upon my stubborn head;" (pg. 25)
He testifies on his ultimate personal triumph in building his life "about a well-planted corner-stone of certain faith". (pg 37)
But the complex beauty and meaning of "City Remembrances" spirals even beyond the poets crafting of words. The poems are integrated with copies of iconic Saint Lucian paintings and photographs that add aesthetic and further symbolic depth to the reader's experience. For example one cannot miss the dramatic and photographic irony achieved from the vintage cover photograph of the Folk Research Centre (FRC) building, perched on top of Mount Pleasant overlooking a prominent three storey wooden building that has now disappeared from the city of Castries. This and other relevant visual artworks included in the book enhance it as a Saint Lucian document of artistic and historical significance. There are also added bonuses such as every book owner having on page 17 his/her own personal copy of the iconic red Madonna and Child painting by Sir Dunstan St. Omer among other works.
The very structure of the book's contents is its ultimate spiral. The work moves from LOVE in the second poem, "will love hold" (pg. 3), and swirls through doubt, folk memories, 'merciful tides of amnesia', and the steadying 'faith that would hold my faith' (pg. 12), returning to LOVE in the last canticle number xii in the last poem "from Intimations"(pg.25). But the return experience in this spiral of memories, realities, and faith is never to exactly the same thing.
"we return, never to the same point,
that's gone, that's passed"
LOVE that was doubted in the journey's beginning is now assured. For the Christian poet from Castries Love is what endures the spiral by faith and with the gift of God's grace:
"for you, my love, my faith companion,
my gift of His incomprehensible grace." (pg.39)
In "City Remembrances" the poet John Robert Lee has masterfully twisted literary and visual art forms with touches of music and folk dancing to create an eclectic testimony about his Saint Lucian city that is transcendental in its reach.
"this one book I have been writing
in canticles Kwéyòl
dancing lines of lakonmèt and weedova
theirviolons and chak-chak in my ear,
an epistle of a testament
to your wonderful King, the Maker of spheres-"