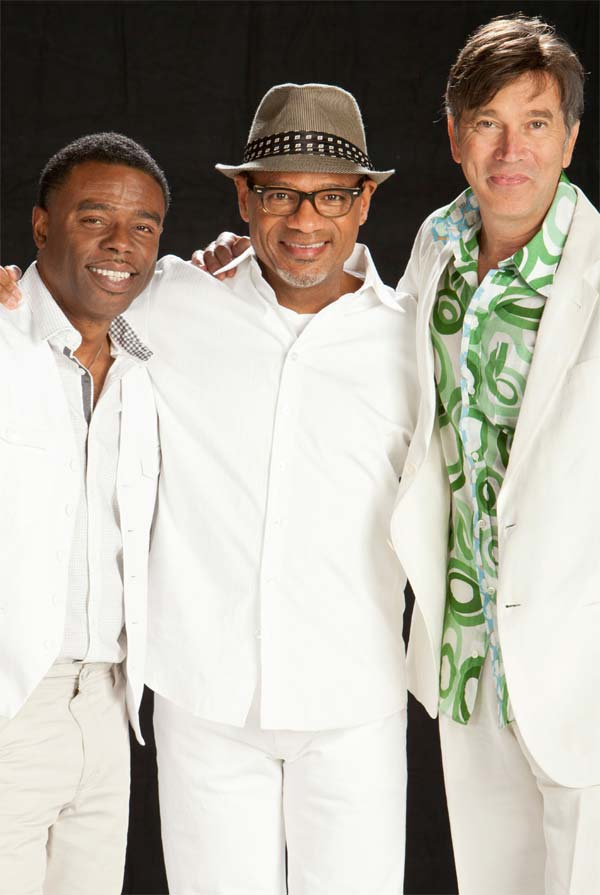 BRAUN, Whalum and Brown (BWB) is a collaboration of three individually styled and world acclaimed musicians who enjoy creating and pushing the limits of music evolution. The trio is coming to St Lucia for this year's Jazz.
Nearly twenty years into his solo career, Rick Braun's done just about everything, from backing the likes of Rod Stewart and Sade to stepping out into the spotlight as a vocalist and a master of the trumpet and flugelhorn.
The Allentown, Pennsylvania-born Braun began playing music in elementary school, ultimately winding up at the prestigious Eastman School of Music. There he hooked up with like-minded musicians to form a jazz-fusion combo, Auracle.
Braun's first big break came when he composed "Here With Me," a Top 20 hit for REO Speedwagon. He soon became a highly regarded pop sideman, touring and recording with the likes of Rod Stewart, War, Sade, Tina Turner, Natalie Cole, and Tom Petty.
The trumpeter became a NAC fixture with his debut, Intimate Secrets. His records have ranked in the Top 10 of Billboard's Contemporary Jazz Chart with "Kisses in the Rain" reigning at #1 for 11 weeks and his singles have held the #1 position on the R&R NAC/Smooth Jazz album charts.
The recipient of numerous National Contemporary Jazz Awards, he shared a Best Collaboration award with Boney James for their hit Shake It Up. He also teamed up with Richard Elliot in RnR and their duet project hit #1 on the Billboard Contemporary Jazz Chart. A much-in-demand producer, he has delivered #1 radio hits with artists including David Benoit, Marc Antoine and Jeff Golub.
His most recent recordings continue to reflect his versatility with the instrumental album "All It Takes" and his vocal talents in Rick Braun "Sings With Strings". This past year saw Braun getting into the swing of the holiday season with his first-ever Christmas album, "Swingin' In The Snow".
Kirk Whalum is a graduate of Texas Southern University in Houston, TX and began his career in the 1980's playing in nightclubs across Texas while a student there. He was introduced to the international Jazz stage by legendary pianist Bob James, paving the way for his thriving career and ensuing albums. These include "Cache", "Joined at the Hip", "For You" and his much celebrated series "The Gospel According to Jazz".
The tenor saxophonist has collaborated with industry greats such as Al Jarreau, Quincy Jones and Barbara Streisand and it is his passionate sound heard on Whitney Houston's mega-hit, "I Will Always Love You". His work has been featured in numerous Hollywood blockbusters, among them "Boyz in the Hood" and "The Prince of Tides".
The recipient of numerous awards and acknowledgements for his musical excellence, Whalum has received three Dove Award nominations, an NAACP Image Award nomination and has won two Stellar Awards-Gospel music's highest honour. An eleven-time GRAMMY® nominee,
Whalum won his first GRAMMY® Award for "Best Gospel Song" ("It's What I Do," featuring Lalah Hathaway) alongside life-long friend and gifted writer, Jerry Peters.
An ordained minister, Whalum recently received his Masters of Art in Religion. In addition to music and ministry, Whalum has a passion to educate young, aspiring musicians and as such he currently serves as President/CEO of the STAX Music Academy and the STAX Museum of American Soul Music in his hometown of Memphis, TN.
His most current release (on Mack Avenue Records) is Romance Language.
Born in Shreveport, Louisiana, and raised in Kansas City, Kansas, GRAMMY® Award winner Norman Brown first picked up a guitar at the age of eight. Inspired by Jimi Hendrix's mindbending rock sounds, Brown soon discovered his father's favourite artist, Wes Montgomery, and found his stylistic holy grail. After high school, Brown moved to Los Angeles to pursue his musical career, attending the Musicians Institute where he also taught for a time. While playing with his own group in local clubs, and drawing comparisons to George Benson, Brown was discovered and signed to the MoJazz label, a division of Motown. He delivered his 1992 debut, "Just Between Us", and followed with the gold-certified "After The Storm" and 1996's Better Days Ahead".
With critical acclaim and sales behind him, the talented musician made the leap to Warner Bros. and released "Celebration", which first teamed him with producer Paul Brown. The 2003 follow up, "Just Chillin'", earned Brown much-deserved recognition with a GRAMMY® Award in the best pop instrumental category. That project was followed by his 2005 release "West Coast Coolin'", where Brown tested out his skills as a vocalist, a move that was welcomed by the urban AC radio market. In addition, his 2005 compilation "The Very Best Of Norman Brown" was one of the best-selling smooth jazz albums of that year.
Brown made the leap to the Peak Records label, a division of Concord Music Group, in 2007 for his smash CD "Stay With Me", which yielded the R&B vocal hit "Stay With Me" and the smooth instrumental favourites "Let's Take A Ride" and "Pop's Cool Groove." The guitarist kept the good vibes going on his long-awaited June 2010 release, "Sending My Love".
In addition to success as a musician and producer, Brown launched a successful career as a broadcaster. In January of 2007, he brought his engaging personality to Broadcast Architecture's Smooth Jazz Network as an on-air personality, hosting this own weekend radio show.
On June 19, 2012, Brown joined sax master Gerald Albright for "24/7", which was nominated for a GRAMMY® in the category of best pop instrumental album. Their first album together, "24/7" featured updated versions of "Tomorrow," a Brothers Johnson classic from 1976, and "Champagne "Life," from singer Ne-Yo's album "Libra Scale".