Melchoir Henry Moves In.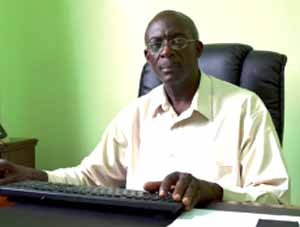 THE Cultural Development Foundation (CDF), has a new Executive Director. Mr. Melchior Henry will serve for a period of two years in the first instance.
Henry comes to the organization with a wealth of experience as a leader and manager. He is an educator who taught at the Vide Bouteille and Marchand Combined Schools between 1974 and 1980. Later he was a part time lecturer at the Sir Arthur Lewis Community College between 1998 and 2007, in the area of Management Information Systems.
From 2010 until his recent appointment Henry served the Government of Saint Lucia as Project Manager on the National Health Information Systems Project and his expertise in this sphere, will be put to work towards achieving the goals of the restructured CDF.
Henry was a member of the now defunct "One Love Theatre", under the direction of Kennedy "Boots" Samuel. He was also a member of "Lighthouse Theatre". He is a member of the Folk Research Centre (FRC) and has published "Creative Writing: Book of Poetry" and co-edited, with Kendel Hippolyte, and contributed to a collection of essays entitled "PULSE".
Henry was also involved in the publication of the now defunct Literary Magazine "Konte`".His work has also been published in the anthology "Roseau Valley and other Poems for Brother George Odlum", and the anthology "Confluence: Nine St. Lucian Poets", edited by Kendel Hippolyte.
His experience and involvement within the cultural and artistic community,will augur well for the institution as it continues to be both a champion for cultural preservation and a development change agent.
Since its establishment in 2002 as the agency responsible to align the aspirations of cultural and creative individuals, groups, communities, policymakers and civil society through the implementation of the National Cultural Policy of Saint Lucia, the Cultural Development Foundation has been headed by executive directors Gabriel "Teddy" Francis and Kennedy "Boots" Samuel.