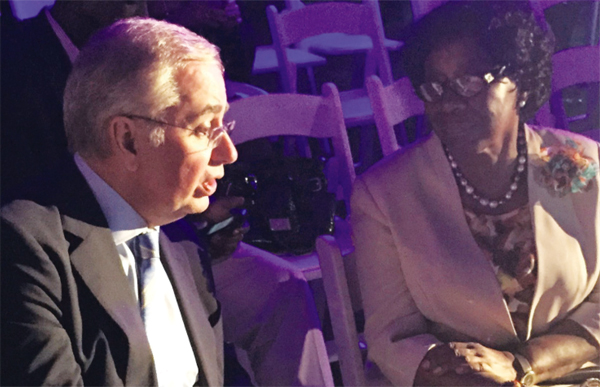 BOKA Group, principal sponsor of the Kwé Art Festival, have declared the recent event a resounding success.
The cultural festival developed by DaianaSimenel and produced in partnership with the Folk Research Centre and Kentillia Louis of the Ministry of Education, took place last weekend as part of the celebrations of Nobel Laureate week.
On the first day, national and international artists gave lectures and workshops on the arts. Mr. Sergio Couri, Ambassador of Brazil, gave 14–17 year old Island students participating in Kwé Art a lecture on economics, based on the work of Saint Lucian Nobel Laureate Sir Arthur Lewis.
Other events included a Photography master-class by the international fashion photographer Gianluca Santoro who flew in from London, a Jewellery design workshop with Raven Rovello, a jewellery designer from Austin, Texas, a lecture on painting and translating poetry into art, with young participants taught how to translate a chosen Derek Walcott poem on to canvas, by local artist and arts educator DelthiaNatrium.
The second day of the event was directed at the adult public, in the presence of Governor General Dame PearletteLouisy, with a night featuring music, a fashion show and a live art workshop involving guests in an atmosphere of art and culture, all centred around the Folk Research Centre in Castries.
The artwork of island students will now form a part of the Boka Group Art Exhibition and will show at the folk Research Centre until February and then tour schools across the island for the rest of the year.
John Kennedy, CEO of Boka Group, principle sponsors said of the initiative:
"I am grateful to DaianaSimenel and Kentillia Louis for involving Boka Group in this great initiative and I am proud that the works by young artists will become the newly launched Boka Group Art Exhibition and go on public display and also visit schools across the island. The exhibition features the work of young students created during the weekend Festival; these works are an interpretation of a play by Derek Walcott, onto canvas. We saw the blank space and clean brushes on Saturday morning and by Sunday evening, in the presence of Her Excellency the Governor General, the results of young imaginative artists had transformed those empty spaces.
"Artistic expression is a talent and potential hidden in every young person, opportunity is often all that is needed to realise something that expresses not only creative imagination, but the soul and spirit of this Island and its heritage.
"We look forward to this event being just the start of a regular set of workshops and to uncovering and promoting of new talent amongst the youngest citizens of Saint Lucia. supporting this Kwé Art Festival fits well with our social corporate programme of providing funding to promote opportunity and to give a platform for participants to develop their full potential".