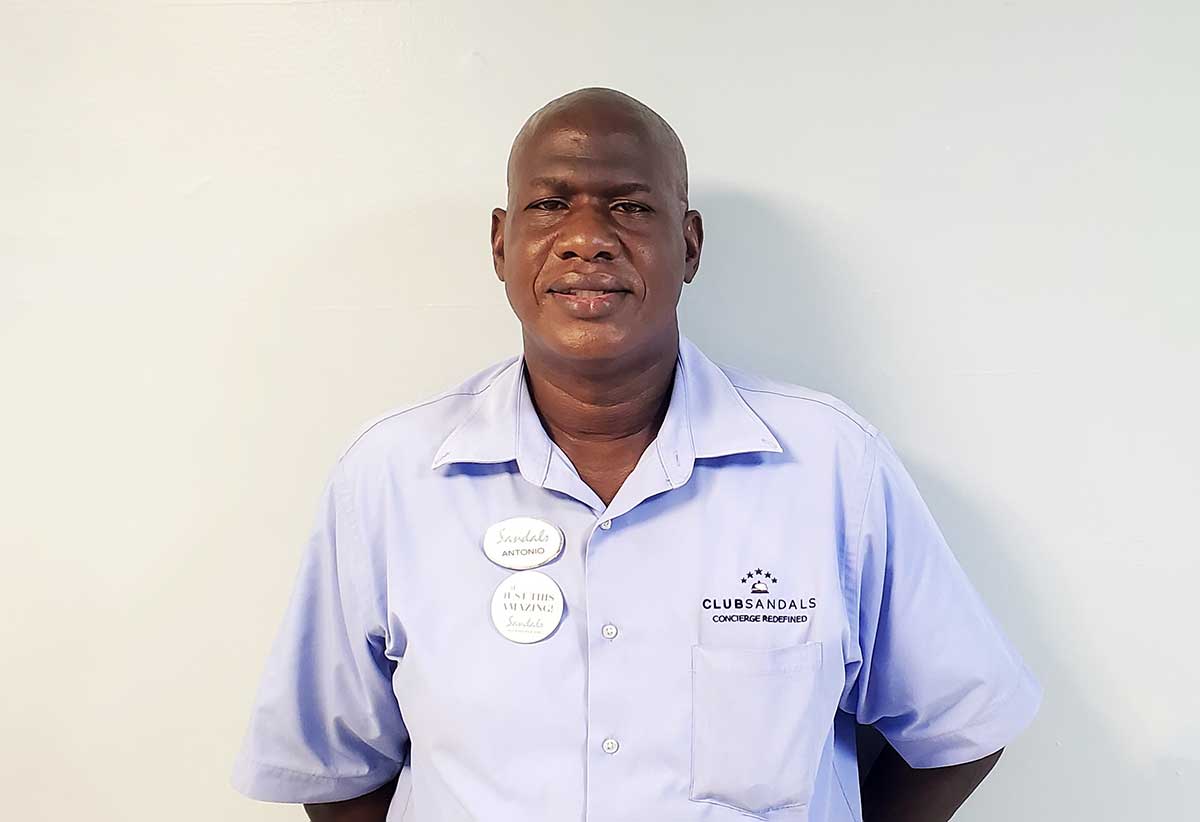 Sandal Resorts has always provided opportunities for young individuals to grow professionally and personally within the organization. These individuals go on to become stellar examples to their peers and leaders within their own right.
One such star team member hails from Sandals Regency La Toc Golf Resort and Spa in the person of Antonio Menal. Antonio is currently employed as a junior concierge in the Club Sandals department. He joined the Sandals family in 1994 when he assumed the post of houseman at Sandals Halcyon Beach.
Following a 10 – year stint at the Halcyon, he then moved to the Housekeeping Department at Sandals Grande St. Lucian Spa and Beach Resort where he spent a total of five years. Antonio states that he remains loyal to the brand as it has played a major role in his overall development, "I love working with Sandals. The brand offers so many benefits and opportunities to team members. Throughout my tenure with the company, I have been able to capitalize on a number of training opportunities, which has led to the advancement in my career."
Although Antonio parted ways with the company following the onset of the COVID19 pandemic in 2020. It took him just two years to return home to Sandals Regency La Toc Golf Resort and Spa, where he has rededicated himself to an award-filled career. From 1997 to date, he has won numerous accolades at all three resorts. Etched on his record of excellence is the Diamond Team Member of the Year title that he has copped twice at Sandals Halcyon, Once at Sandals Grande St. Lucian and an impressive four times at Sandals La Toc.
Antonio recalls, that when he first joined the company he was shy and reserved but his exposure at Sandals has allowed him to blossom into the experienced leader that he is today. Guests often rave about his personality, stating that he constantly ensures that they want for nothing during their stay. He notes, "The training and knowledge imparted on me throughout my career has equipped me with the tools necessary to effectively execute my duties. I am poised to take on additional responsibilities within my department. Not being limited to my role, I have more confidence to engage guests on a deeper level."
Operations Manager Aurea Anthony – Daniel describes Antonio as a very helpful individual who takes pride in what he does, "Antonio is very knowledgeable and experienced in his field. He is always willing to assist and is very dependable. We are fully aware of the contribution of our human resources to the continued success of our Brand and we are forever grateful for the commitment and dedication of team members like Antonio. He is definitely an asset to the team."
Antonio says his focus now is passing on the experience and knowledge he has gained to new team members. "I want to be able to provide the team with my full support. I want to encourage and guide them. I intend to play my part, to share my ideas geared towards improving the team and the overall operations of the department. I hope that my work ethic rubs off on the team as we strive to improve the efficiency and timeliness in the execution of departmental duties."