Fifteen students were officially enrolled in the Spartan Health Sciences University School of Medicine at its White Coat ceremony held at the National Skills Development Centre (NSDC) in Vieux Fort on Friday.
A striking feature of the ceremony was the recitation of the Hippocratic Oath by the students and their donning of their white coats, which spelt out what is expected of them as physicians in training.
It reads in part: "I will follow that method of treatment, which according to my ability and judgment, I consider for the benefit of my patients, and abstain from whatever is harmful…"
The Spartan Health Sciences University School of Medicine, which has been in existence here for several decades, has produced a number of outstanding physicians, who have done exceedingly well abroad.
In his keynote address, Dr. Chandrashekar Rao Addagada, a member of the Board of Directors of the school, congratulated the students for obtaining the necessary requirements which have enabled them to undergo the profession of their choice and wished them success in their endeavors.
He described medicine as a noble profession, and one that requires discipline and humanity.
"Show humanity and try to feel what the patients go through. Listen to the patients and try to understand them. Don't disappoint them… " he urged the students, adding that medicine is not a business.
He stressed the importance of good communication skills in being able to understand the feelings of the patients, whose lives were quite literally, in their hands.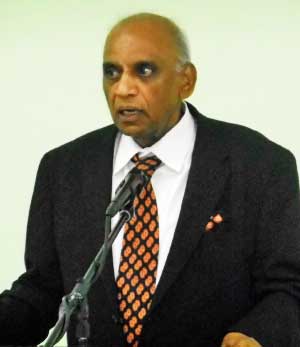 Dr.  Rao reiterated the school's support, noting that staff at Spartan would do all in their power to ensure students succeeded in their exams, and became successful physicians. "We will drill you, we will monitor you…" he said.
He implored the students to take their work very seriously in order to succeed and make the school proud.
Referring to his experience and feat, he said it was his passion for the profession that made him a successful physician.
Dr. Ray Lingam, a former student of Spartan spoke of the school in glowing terms. He noted that Spartan University helped him shape his future, something that he still appreciates very much.
Lingam expressed that medicine is a calling and not a trade, and called on the students to exhibit a great deal of humanity when attending to their patients, regardless of their social or economic situation.
He implored the students to work hard and make the school proud, adding that hard work and determination lead to success.
Aryan Hemani, a first trimester student of the school said that he remained excited about being a student, and that he and other students were committed to doing their best.
"We are aware of the challenges ahead and we will not be daunted by it," he said. "We want to be the best doctors because we have seen the success of other doctors. We see medicine as the most noble and respected profession in the world."