A GROUP of students of the Corinth Secondary School have gone into the month of March with a clearer path of what career they wish to pursue, and the subjects needed to achieve that goal following a month of professional career guidance.
The combined body of form three students, 130 to be precise recently culminated their Career Guidance Month which has been held every February by the school for over 15 years.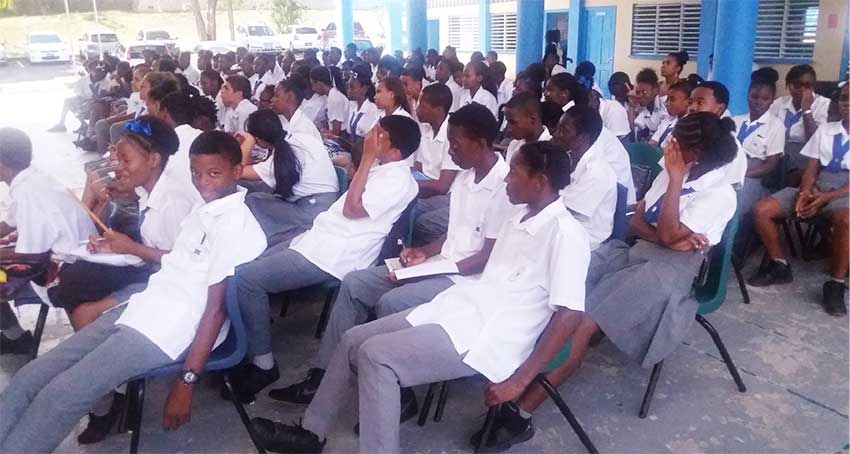 School Counsellor, Tessa John-Guerra said the event is hosted for the students who are due to choose their subjects in March. The idea is to expose them to all the different careers available as possible with the help of professional speakers from different career fields, thus widening their options as well as giving them insight as to which subjects would be best for their chosen career path.
Every year, the school invites different professionals from different corps and institutes as well as professionals from higher education like Sir Arthur Lewis Community College and Monroe College to dish out information on what they offer for students to be able to make well informed decisions when choosing their subjects.
Whilst this initiative has been ongoing for many years, this is the first year that it is being done with all form threes under one umbrella, as in the past, students would be divided into small groups and would be directed to the rooms with speakers of careers that they were interested in. This would result in them being exposed only to what they were interested in, but with the newly built facility, they now host mass sessions so that students could be exposed to more options where they could perhaps learn of a new career path that would be more favourable to them.
John-Guerra said: "Every year we improve on it and we try to get different and dynamic speakers who have a lot of experience, not only here in St. Lucia but regionally and internationally, because we don't want to only prepare them for here, but for the world. We want them to get an idea of what it is out there and not only how it is here in St. Lucia."
The VOICE caught up with one of the speakers who shared valuable pearls of wisdom with regards to the hotel and tourism industry.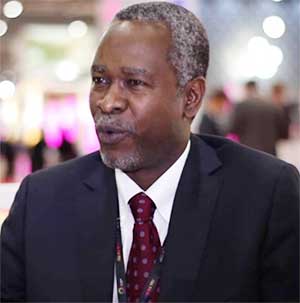 Lennox Dupal who is the retired General Manager for Sandals Halcyon, not to mention the highly respected and influential asset to the said industry for over 47 years, said he feels honoured to have the opportunity pass on his rich knowledge to the future generation who wish to follow in his footsteps.
Dupal said he would most importantly like to dispel the misconceptions held about the industry: "Most people believe that the industry is just about serving or being subservient. There is a lot more to it, and I'd rather instead of using the word 'server' I refer to my hotel colleagues as 'service providers'. This is more politically correct in what they do because they don't only serve; they do a myriad of things. So why keep on calling them waiters, waitress and room attendants? They are service providers as far as I'm concerned."
Dupal, who was originally more interested in the Tech field, began his career in the hotel industry in 1972 at the Holiday Inn. Career ascended from there, getting his hotel management degree in Germany, then moving around to Antigua, then Asia where he spent six years working for Ramada, before returning to St. Lucia to work for Sandals.
The other speaker of the day was Mabius Francis Sub Officer, Fire Prevention St. Lucia Fire Service.