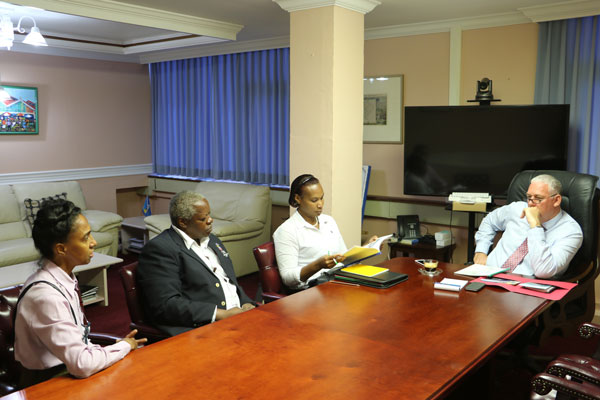 Prime Minister Allen Chastanet has thrown his support behind the observance of Earth Science Week 2016, which runs from October 17-21.
The week-long observance is spearheaded by the National Emergency Management Organization (NEMO) towards promoting awareness of geologic hazards that may threaten the island, such as volcanic eruptions, earthquakes and tsunamis.
Representatives of the UWI Seismic Research Centre who are on island to heighten awareness during the observance of Earth Science Week met with the Prime Minister on Tuesday this week. The experts presented him with a comprehensive seismology report, outlining possible geologic hazards which may impact the island along with recommendations for Disaster Risk Mitigation Measures.
Prime Minister Chastanet commented on the importance of the meeting, referencing the recent passage of Tropical Storm Matthew over Saint Lucia last month: "We are ourselves recognizing that there is a lot for us to learn because we seem to be making some of the same mistakes and confronting the same situations and outcomes every year."
Member of the team and Research Fellow with the UWI Seismic Research Centre, Mr. Lloyd Lynch, said the meeting with the Prime Minister was very significant, given that the occurrence of natural disasters are heavily interconnected with the national security of any country.
"As a fairly newly elected official, there are certain issues that he should be apprised of, particularly in terms of national security from the standpoint of natural disasters," Lynch said. "The hurricane risk is clear and present but the earthquake and volcanic risks are perceived to be more remote in our region. Our intention was to apprise him early in his administration so he is more aware of those natural events and — more importantly — what his administration could do to help mitigate the risks."
Earth Science Week was formally launched on Monday, October 17 with a programme of activities that comprise presentations, workshops, meetings and activities that are expected to foster increased awareness of geo-hazards.
Director of NEMO, Velda Joseph, said her department was thankful for the opportunity to partner with the experts from the UWI Seismic Research Centre.