Soufriere, Micoud Bid For Super League Semi Final.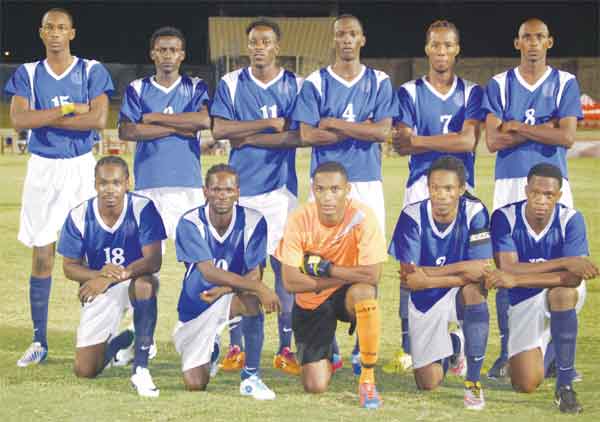 THE Anse la Raye Playing Field will come alive tomorrow evening when the St.Lucia Football Association and Vizions Entertainment / Michel's Electrical Knock Out Tournament enters a critical stage, Micoud and Soufriere will face each other in a play off for a semi final spot from 6:00 p.m.
The two teams had victories over Central Castries 2 – 1 (Micoud) and Anse la Raye 4 -2 (Soufriere) in a penalty shoot out after the scores were locked at 0 – 0 following regulation time on Sunday.
Meanwhile, Canaries, Gros Islet and Vieux Fort South have all secured their place to the semi final round of the tournament with wins over Roseau, Mon Repos and Mabouya Valley respectively at the weekend.
On Saturday Canaries had the better of Roseau 2 – 0 with goals from David Henry in the 43rd minute Fitus Shepard in the 75th minute. The half time score was 1 – 0.
In Game No. 2, Vieux Fort South made light work of Mon Repos 3 – 1. The goal scorers for VFS were Antonio Joseph, Shem Savery and Thruston Joseph, while Leslie James scored Mon Repos' lone goal.
Gros Islet's prolific goal scorer No. 9 Troy Greenidge continued to make life difficult for the opposition when he scored twice to take his tally of goals in the Super league to 6, as the home team Gros Islet defeated Mabouya Valley 4 – 0. Elijah Louis scored the other two goals.
On Sunday, Micoud beat Central Castries 2 – 1 in a game that could have gone either way as both teams squandered numerous scoring chances before the half time whistle. No. 16 Jonathan Symphorien put Central Castries ahead in the 44th minute, but their celebration was short live as Micoud No.9 Matton James equalized on the stroke of the half time whistle to leave the match evenly poised.
On the resumption saw both teams like pressed higher up the tempo a few notches, but that did not last too long, but Micoud looked like the more determined team on the day and in the process found the much deserved goal in the 81st minute from the boots of their No. 12 Carlton Daniel and seal a playoff with Soufriere.
In the final match of the evening Soufriere defeated Anse la Raye 4 – 3 on penalties in an encounter that never lived up to its hype and expectation. The scores were locked 0 – 0 after regulation time.