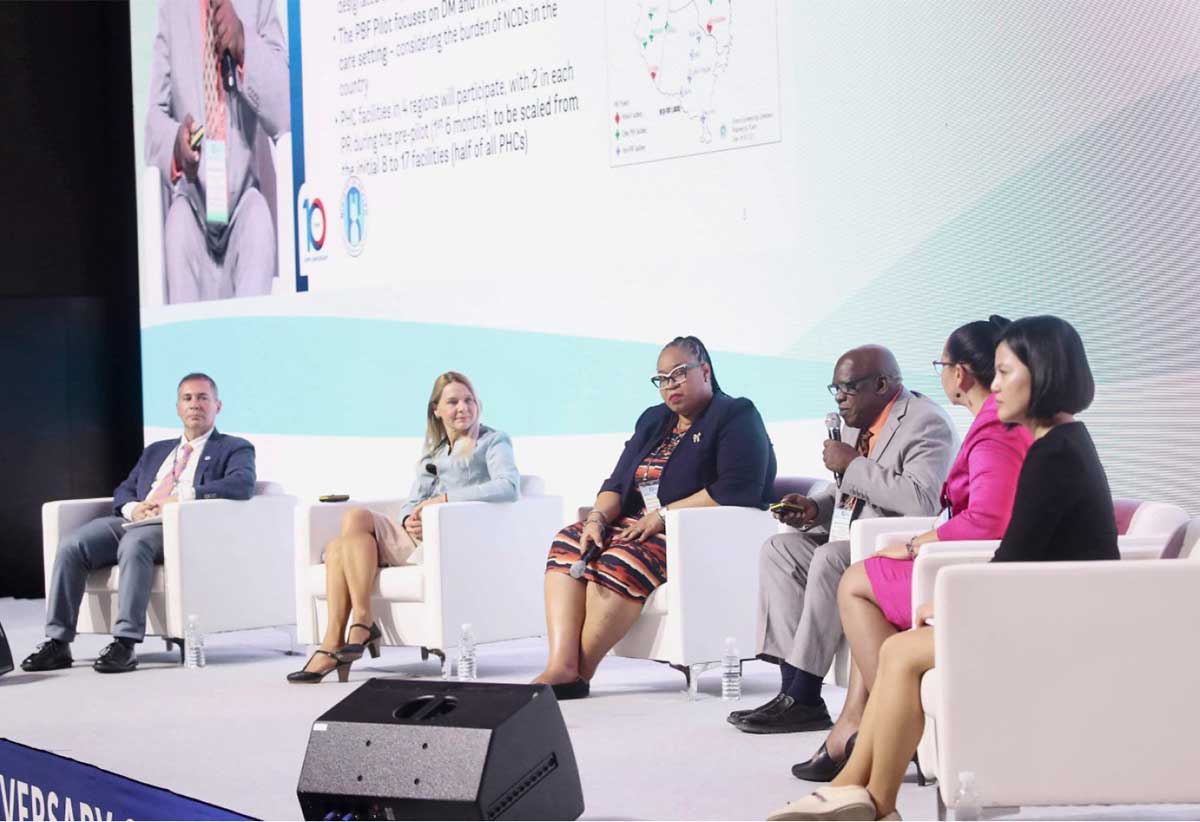 A group of senior health officials from Saint Lucia and St. Vincent and the Grenadines concluded a 4-day study tour to South Korea to learn about efficient and sustainable models for implementing universal health coverage (UHC) and three Caribbean hospitals signed a Memorandum of Understanding with Seoul's National University Bundang Hospital, a center of excellence of Korean health care.
The study tour, funded by the Korea-World Bank Partnership Facility, was designed to share Korea's experience in introducing health sector reforms and exchange ideas to support Caribbean countries in their future reforms. The topics covered in the study tour included: the management of non-communicable diseases, strengthening hospital management and performance, and health sector modernization, including through leveraging information systems and technology.
Hospital sector modernization is a central theme for St. Vincent and the Grenadines (SVG) and Saint Lucia, as both countries are currently working on modernizing their hospital sectors. This includes development of new hospital infrastructure, procurement of medical and information technology, and strengthening hospital governance and management frameworks to deliver higher quality and more specialized care more efficiently. St. Vincent and the Grenadines is developing a hospital strategic plan and a transition plan for a new Acute Care Hospital, and Saint Lucia is planning to modernize the St Jude Hospital. Representatives from Korea's Ministry of Health and Seoul's National University Bundang Hospital showcased models of governance, increased autonomy of the hospital sector, and hospital financing models to improve hospital performance.
"This study tour brought more insight on how Information Communication Technology is integral in attaining universal health coverage", said Dr. Alisha Eugene-Ford, UHC Director in the Ministry of Health, Wellness and Elderly Affairs, Saint Lucia. "We have met a friendly nation, who have clearly demonstrated this to us. I feel motivated now, with a clear pathway on attaining universal health coverage in Saint Lucia. This memorable study tour allowed us to learn and form a friendship, which will allow continued collaboration", she added.
Given the high prevalence of non-communicable diseases (NCDs) and related premature morbidity and mortality in the Caribbean, as well as the high costs of managing NCDs, Korean health authorities shared their approach to improving the management of NCDs, emphasizing the shift to wellness, and the role of communities and early detection to extend healthy life and contain health expenditures.
The study tour participants also had a chance to discuss the use of health management information systems to strengthen health service organization and provider payments. Korea has rolled out a data platform for benchmarking hospital performance across several indicators such as governance, quality of care, and financial management. This system was presented to Caribbean participants to inspire a home-grown development of information systems. The discussion also brought attention to the importance of investing in human resources for digital health, and strengthening data governance, which are critical foundational elements to accelerate sector modernization in Saint Lucia and St. Vincent and the Grenadines.
The delegates also visited key health sector entities, including the National Health Insurance Services, the Health Insurance Review and Assessment Service, a public health center, a public hospital, and learned about telehealth to identify solutions and cooperation opportunities to propel forward with their health sector reform.
Further, they participated in the Korea-World Bank Partnership Facility 10 Year Anniversary Conference in Seoul and shared their reform experiences in their health systems amidst major shocks, including the COVID-19 pandemic, climate-related events, and natural disasters.
"The last five days have been nothing but eye opening and definitely an opportunity to strengthen and enhance our system in St Vincent and the Grenadines. Not only were we able to talk about universal health coverage, we were also able to see probably the finest demonstrations of UHC in action. As a small island developing state this study tour has significantly flattened the learning curve as we move swiftly towards achieving UHC. The application of information technology, creative health financing modalities, progressive hospital policies and a truly all of society approach to health care, makes the Korean model one worthy of replicating with contextual changes," said Dr. Roger Duncan, Medical Officer of Health, from the Ministry of Health, Wellness and Environment, St Vincent and the Grenadines.
The study concluded with the signing of a Memorandum of Understanding between Seoul's National University Bundang Hospital and St Vincent and the Grenadines' Milton Cato Memorial Hospital, as well as the Millennium Heights Medical Complex, and the Saint Lucia's St. Jude Hospital. The memorandum will promote cooperation between these hospitals and across the countries and facilitate further knowledge exchange.
"We are committed to working with the World Bank to strengthen health systems and support digital transformation in healthcare. Korea's experience and knowledge in leveraging digital tools to innovate healthcare will help the transition to evidence- and value-based healthcare. To achieve meaningful UHC, adequate and well-functioning healthcare providers must exist. Capacity building in all levels of the health delivery continuum must go hand-in-hand. We hope this study trip would contribute to the success of the many existing projects implemented by the KWPF," stated Junghan Song, President and CEO of the Seoul National University Bundang Hospital.
During the 10 Year Anniversary event, a Grant Excellence Award for Best Client Orientation and Response to Client Demand was awarded to the project team by the Director General of Development Finance of the Ministry of Economy and Finance.
The study tour is a part of the technical assistance work that the World Bank is providing to the Governments of Saint Lucia and Saint Vincent and the Grenadines to accelerate progress toward universal health coverage during the Era of COVID-19, funded by the Korea-World Bank Partnership Facility. The World Bank is also providing investment financing in the health sector through the STL Health Systems Strengthening Project, the SVG Strengthening Health System Resilience Project , and the OECS Regional Health Project.