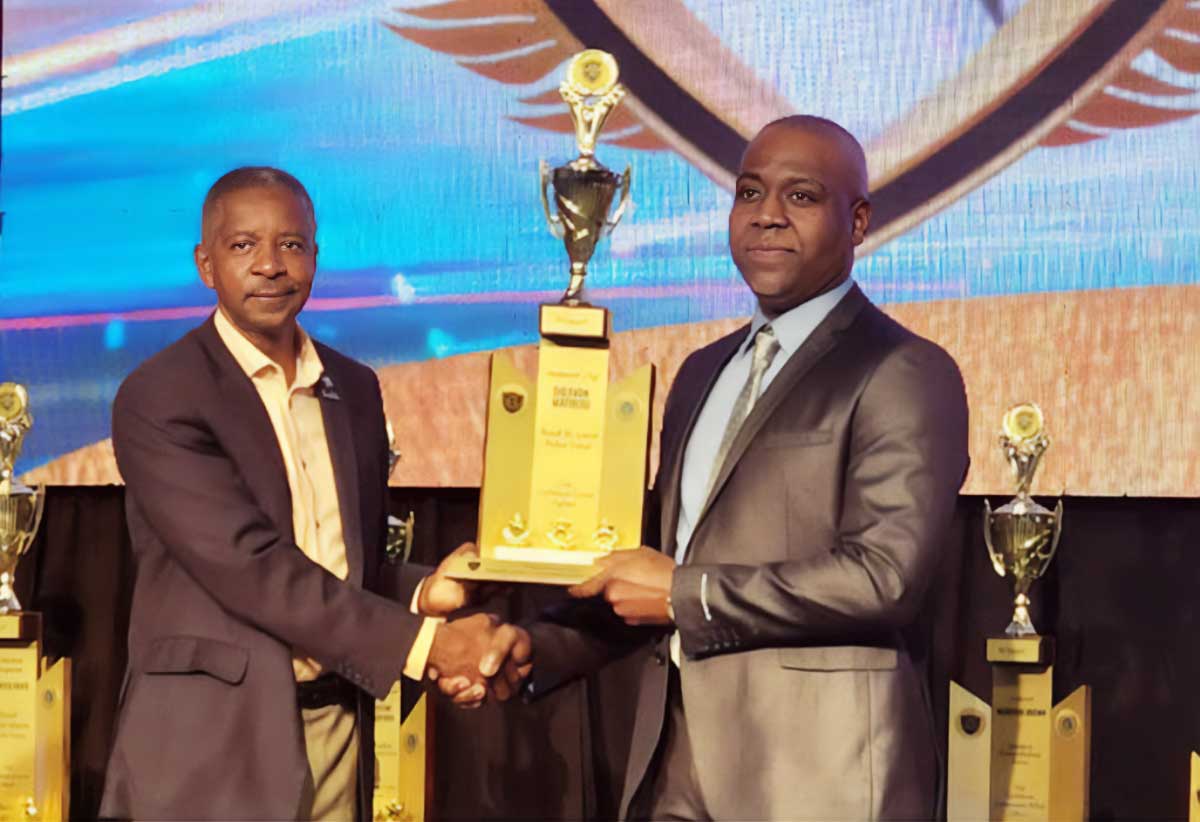 Royal Saint Lucia Police Force (RSLPF) Inspector Shervon Matthieu, on Monday, received the award for Top Caribbean Crime Fighter at the Amalgamated Security Services Limited's (ASSL) Regional Recognition Awards. 
The event was held at the Hyatt Regency in Trinidad and Tobago.
According to Chairman of the ASSL, Dr. Michael Aboud, nine outstanding officers are highlighted at the awards ceremony each year in three different categories.
"The winners are selected by an independent panel of judges appointed by the (Association of Caribbean Commissioners of Police)," Aboud told the audience, adding that "since 2015, ASSL has proudly sponsored… in collaboration with the ACCP fostering a strong partnership between the private sector and law enforcement agencies."
The latter, however, cannot resolve crime on its own, Aboud pointed out, and requires "the involvement of key stakeholders… that is why ASSL has made it a priority to support initiatives that enhance safety and security in our region."
Speaking on the ACCP's mission, the chairman noted that the organization is the "the principal regional organization, promoting and facilitating collaboration, cooperation and the development and implementation of effective policing strategies, including partnerships with the private sector."
"These objectives attracted us to the ACCP and its alignment with a common goal of fostering a safer Caribbean. In line with our (shared) objectives, ASSL embarked on the Regional Recognition Awards Programme for Public Law Enforcement," he said, adding that "this initiative seeks to honour and acknowledge exceptional police officers from the ACC member forces services and departments."
Matthieu, in a post on his Facebook page dedicated the award to "all the brave individuals, both men and women, who tirelessly work to protect and serve our communities. You are the true heroes, risking your lives every day to ensure the safety and security of our fellow citizens."
Matthieu also spoke of the challenges that comes with the job and praised team members for their support.
"Crime fighting is a challenging path that requires immense courage, dedication, and sacrifice. It is also a collective effort that relies on the power of teamwork, collaboration, and trust. I consider myself incredibly fortunate to be surrounded by a remarkable team of partners, mentors, and leaders… They have selflessly shared their knowledge, experience, and skills with me, challenging me to reach new heights," he added.
"Every day, we confront uncertainty, danger, and complex situations that demand split-second decision-making. It is our unwavering determination and commitment to justice that propels us forward," he said, adding that "there is still much work to be done."
To ensure a fair chance for officers from smaller forces versus officers from larger forces, the ASSL took a number of factors into consideration.
"The Top Caribbean Crime Fighter will not only be selected by the number of crimes detected by the nominated officers. The ratio between cases assigned to any officers and detected cases by these officers may also be considered," ASSL noted on its website.
Furthermore, "the impact that the case/cases detected by an officer (including resulting convictions) had on general safety and security within the respective community (and by extension country and region) will be a main criterion for the judges on the awards programme's panel."