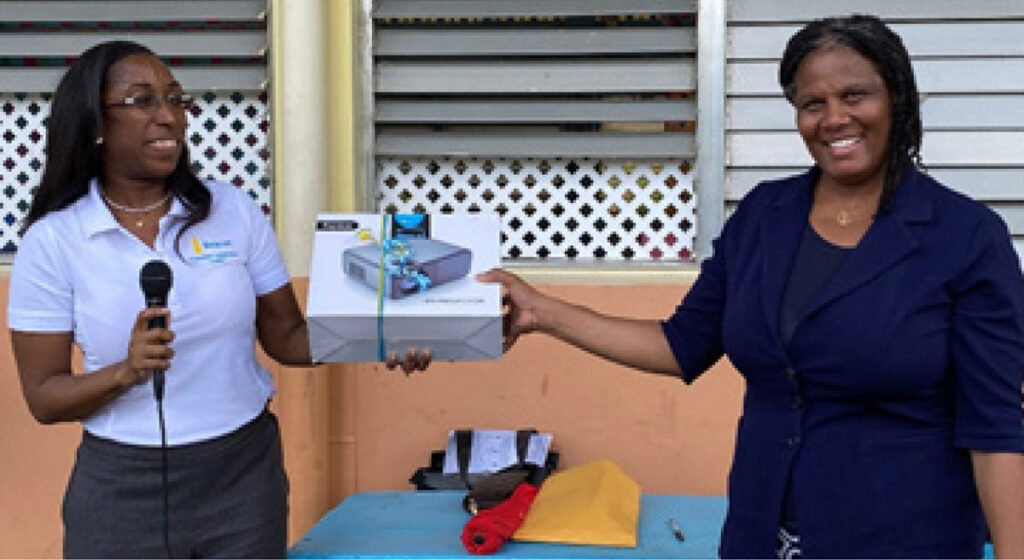 The Beacon Insurance Company Ltd. donated an LED projector to the Grand Riviere Primary School on 27th March 2023. Gilbertha Stoddard, Assistant Branch Manager at Beacon St Lucia, presented the projector to school principal, Mrs. Julietta Charles, in front of faculty and students at the school.
Speaking at the handover, Ms. Stoddard said Beacon wants to make a positive impact on students in their local community. They chose to adopt Grande Riviere Primary School after a period of review as the school is one in need of assistance and is rarely seen as receiving support from corporate sponsors.
Upon accepting the donation, Mrs. Charles expressed her gratitude to Beacon. "We are so happy and grateful to receive this token and we've been wanting this for a very long time. It will encourage visual learning for our students."  Principal Charles noted that the students have been disadvantaged without one. She went on to address the students saying "With the use of this projector, it will really encourage visual learning, and this will make your lessons very interactive and engaging! You will now be able to watch educational videos and presentations on a big screen."
Beacon has pledged to enrich and enhance the lives of those in the communities in which it operates through the creation of opportunities for development and growth. The company has been in the insurance industry for over 40 years, with operations spanning the region. Their headquarters are in Trinidad & Tobago with branches in St Lucia, Grenada and Barbados. They also maintain agencies in St. Vincent, Dominica and St. Kitts & Nevis.