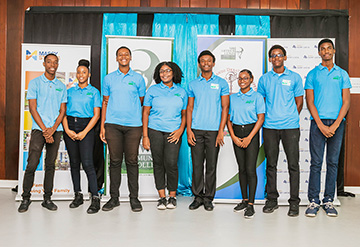 The 5th annual Windward Islands Debating Competition (WIDC) hosted by the Sir Arthur Lewis Community College will take place on April 28-29.
Participating colleges are the Dominica State College, TA Marryshaw of Grenada, the St. Vincent and the Grenadines Community College. The regional debating competition among community colleges in the Windward Islands takes place virtually after a one-year hiatus due to the global pandemic.
A team of eight students has been in preparation for the competition that includes topics of mandatory vaccination and the benefits of online learning. Four students will present on behalf of the College: Ashlee Barnett and Jaiden Lebrun, enrolled in the Associate Degree in Biology and Chemistry respectively, Jean-Luc Constantine, enrolled in the CAPE programme and Ryn-Kyj King enrolled in the Sustainable Business and Innovation programme.
According to the Chair of the SALCC-WIDC Committee, "The WIDC seeks to develop the research skills of students, refine their public speaking skills, and promote deeper engagement of tertiary level students. Further, the competition aims to inspire other college students and adults viewing and or interested in debating."
The College hosted the inaugural competition in 2017. SALCC teams have performed credibly in the last two competitions: – 2018: Team SALCC placed second overall and captured the prestigious Best Overall Speaker Award and the Best Speaker Award for Semi-Final 2 and the Finals debates, respectively. – 2019: Placed second overall and captured the Best Overall Speaker Award and the Best Speaker Award for the Finals Debate.
The College is grateful to the sponsors who have come on board to support the 2022 WIDC Competition particularly, the National Lotteries Authority, Massy Stores SLU Ltd, St Lucia Hospitality Credit Union, The St Lucia Teachers Credit Union, Invest St. Lucia, Flow St Lucia, All Biz Ltd, the Trophy Centre, Excel Signs, and all others who have pledged their support.