MATCHES continued in the Saint Lucia Football Association (SLFA) Inc. and National Lotteries Authority (NLA) sponsored Island Cup at the Marchand Grounds and in the Women's Under 23 Tournament at the Sab playing facility over the weekend. The main highlights were wins for Canaries over Mabouya Valley and the National Under 15 women team's 11 – 0 drubbing of Central Castries.
On Saturday 9th two matches were scheduled to be played at the Marchand Grounds; however none materialized. In game 1, Roseau Valley failed to turn up for their encounter against Gros Islet; while Central Castries for the second consecutive time forfeited their encounter, this time against home team Marchand when they showed up with the minimum requirement of seven players, but refused to take the field.
The action continued on Sunday 10th November at the same venue. In the first match played, Canaries defeated Mabouya Valley 4 – 3.
David Henry put Canaries ahead in the 27th minute and despite Mabouya Valley's die hard efforts to equalize, Stephen Longville extended the Canaries lead in the 43rd minute to give his team a 2 -0 advantage at the halftime whistle of referee Kervin Antoine.
On the resumption, Mabouya Valley's prolific goal scorer Vernon Abbot pulled one back for his team in the 59th, and Deanus David equalized in the 69th minute via the penalty spot; one minute later, Sherwin Simon put Mabouya Valley in the lead for the first time in the encounter.
Canaries with a no die hard attitude surged ahead in the 73rd minute when David Henry found the back of the net, while Donavan Jn Baptiste sealed the victory in the 89th minute. Final score: 4 – 3.
In Game No 2, Vieux Fort South (VFS) and Dennery played to a hard fought 2 – 2 draw.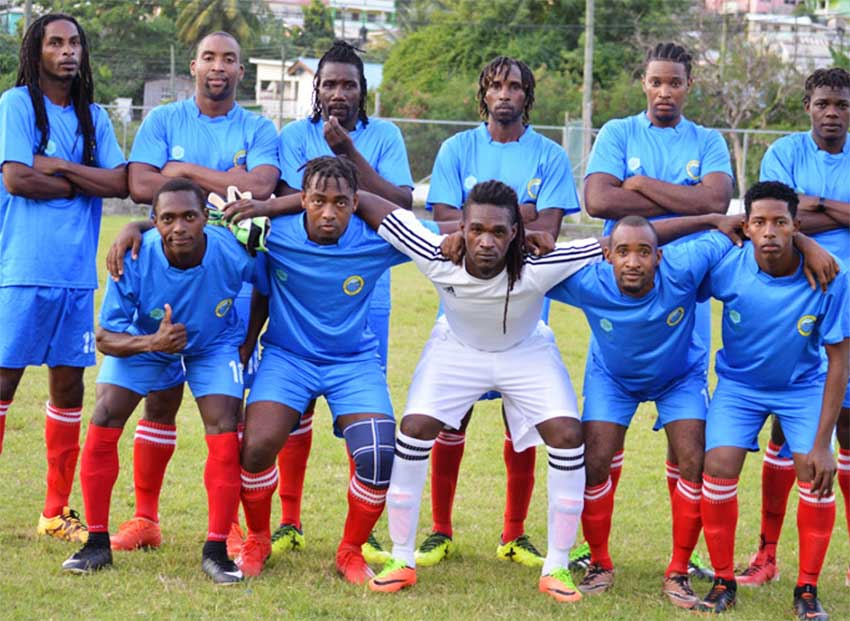 Vieux Fort South got their goals from Antonio Joseph in the 1st minute and Azar Charles in the 15th minute.
For Dennery, the goal scorers were Jamie Prospere in the 11th minute and Taddius Faucher in the 63rd minute.
Meanwhile, on Saturday 9th, one match was played in the SLSFA Inc. Senior Women's Football Tournament at the SAB Playing Facility between the National Under 15 team and Central Castries decked in their customary blue and white attire.
At the final whistle, the National Under 15s had the better of Central Castries 11 – 0. For the National Under 15s the goal scorers were Jerdell Emery with a beaver trick in the 14th, 22nd, 29th and 38th minutes, braces by Harmony Jones in the 11th and 32nd minutes, Kershima Ince in the 6th and 34th minutes, Annica Louis in the 9th and 42nd minutes and Asa Alexander via the penalty spot.