HEADQUARTERED in the south of the island, the Caribbean Hospitality and Tourism Training Institute (CHTTi) is now fully-operational and ready to offer Saint Lucians and the wider region a range of customized training, academic programmes and professional certifications in the area of hospitality.
As a fully-accredited hospitality training institution this year, CHTTi registered its first student for a full-time Emerit, NVET (NVQ), CVET (CVQ) and Ofqual UK programme in 2016 in a Certificate of Specialization in Services.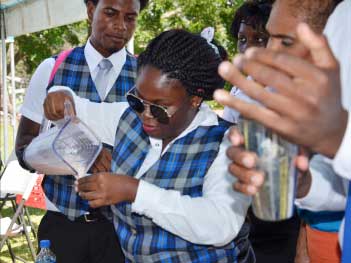 In describing the mission and mandate of the school, Mervin Agiste, Recruitment and Communications Officer of CHTTI said: "Our goal is to maximize individual potential so that young people recognize the opportunities within the industry and begin to grasp them as caring hospitality professionals."
Agiste added: "We also recognize that there is a need for greater emphasis to be placed on training in the areas of hospitality and customer service here in Saint Lucia and this is what will set us apart as we seek to become more competitive as a tourist and service based destination."
Ahead of becoming a full-fledged training school, CHTTi has forged strategic partnerships with key stakeholders locally, including hotels and restaurants, and is now in a position to offer its services to hospitality-based organizations, including members of the Chamber, SLHTA, Micro Business Association and Manufacturers Association, among others, offering customized technical and soft skills training programmes to meet their diverse human resource needs.
The Institute is fully-accredited, through Emerit, which in turn is accredited by Tourism Certified Professional (TCP), Tourism Certified Supervisor (TCS), Tourism Certified Manager (TCM), Certified Hotel General Manager (CHGM), or Certified Event Management Professional (CEMP), and is currently registered with the Ministry of Education here.
CHTTi is also a member of the following: Caribbean Hotel and Tourism Association, Saint Lucia Hotel and Tourism Association, Caribbean Tourism Organisation, Saint Lucia Chamber of Commerce, Industry and Agriculture, Soufriere Regional Development Foundation, and the Southern Tourism Development Corporation.
The Institute also has the solid support and institutional backing of the American Hotel and Lodging Association (AHLA) which is the largest Hotel Association in the world. The non-profit educational arm of AHLA is the Educational Institute (AHLEI), represented in Saint Lucia by CHTTi.
Recently, CHTTi received accreditation from Office of Qualifications and Examinations Regulation (Ofqual), offering courses that will be recognized and accredited in the European Union (EU).
CHTTI specializes in short face-to-face executive seminars and distance learning programmes for individuals currently in the industry and 15-weeks to 1-year programmes with progression to diplomas for those seeking hospitality, tourism, or culinary academic qualifications.
All training courses are recognized by industry and educational institutions worldwide, thereby transferable as credits for further education in several countries, including Canada and the UK. AHLEI is also the major training partner for Florida Caribbean Cruise Association, i.e. Carnival and Royal Caribbean Cruise Lines, and is recognized by the Caribbean Tourism Organization.
With these strategic partnerships, policy framework, institutional support and diverse programme offering, the Caribbean Hospitality and Tourism Training Institute will play a pivotal role in shaping the industry for years to come by offering life-changing opportunities to young people who will become invaluable to their current and future employers.