In St. Lucia and the world over, there are many "Sheroes" walking among us, yet they go through life without getting the recognition or gratitude that they deserve.
Well today, I am shining the light on one of my "sheroes" as I truly believe that this woman has the power to inspire and turn many young lives around in the right direction.
Lovely St. Aime-Joseph a 29 year old boss to be put quite simply.
She hails from the community of Choiseul and is the News Director and Assistant Manager at MBC Television / Real FM but she says that it is her role as a mother, wife, daughter and sister that truly defines who she is.
St. Aime-Joseph began her career in media at the age of 19 at Radio St Lucia as an On Air Presenter/Producer where she gained knowledge of the field under the company's Managing Director Roger Joseph.
She said: "My first day on the job, I was informed that I had been enrolled in a Caribbean Broadcasting Corporation (CBC) course. I knew that I was in for a great learning experience at RSL. Later, my fated meeting with Barbara Jacobs-Small occurred. She was brought in to train me with on air delivery. I was very intimidated by her at first. To me she was (and still is) 'the Voice'. Soon she would tell me a little about her background and suddenly I didn't feel so overwhelmed by the city and the prospect of going live on 'the nation's station'. I could relate to her story. I have a very deep sense of respect and appreciation for Mrs. Jacobs-Small. I think it was about a year later that I was being asked to consider making a move from the Programmes Department at RSL to the Newsroom. The managing director at the time, Mary Polius, said she felt I had the ability to make a transition to journalism. I accepted and the rest, as they say, is history."
It wasn't long after that St. Aime-Joseph moved over to Helen Television System (HTS) where she first served as a news reporter and then a senior news reporter.
During her time at HTS she learned some valuable skills under the supervision of Editor and Deputy Editor Carmy Joseph and Winston Springer Jr.
Those skills proved to be extremely useful and profitable as it turned this journalist into a valuable commodity and landed her in her current role where she sits in that "big chair".
After only five years at HTS, St. Aime-Joseph was snatched up by MBC Television / Real FM where she was tasked with heading the news department.
But once there, St. Aime-Joseph didn't finish climbing that ladder just yet as shortly after, she was appointed as the Assistant Operations Manager.
With regard to her achievements so far, St. Aime-Joseph said: "I am proud that I can follow in the footsteps of amazing women and possibly inspire another young woman to aim high."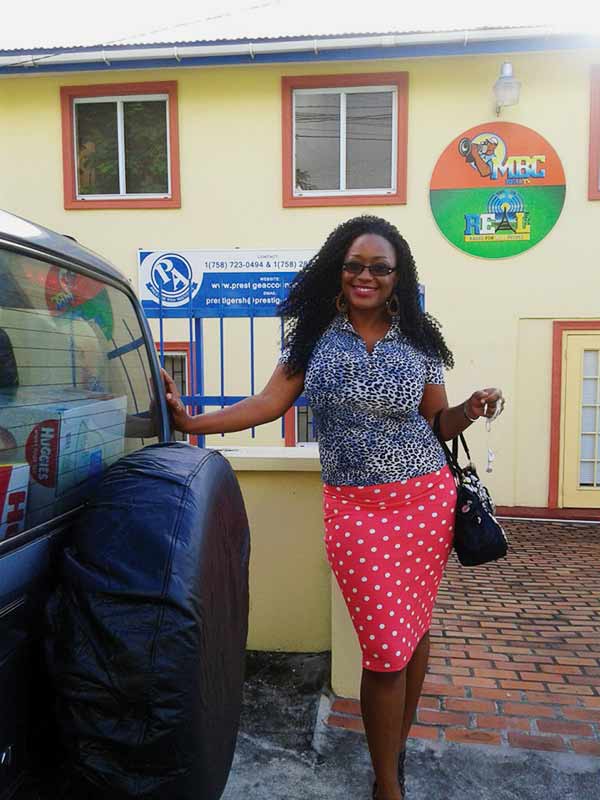 On the other hand, she said holding such a position has a non-stop supply of challenges and being a woman, a professional one in a "man's world" to be more specific, is seemingly the magnet to many of these challenges: "To be honest, it has its challenges. Men expect you to keep up by demonstrating that you can be 'all about business' and not be the stereotypical 'emotional woman'. Women have the expectation that you will draw on your experiences as a mother and wife to make decisions from a place of compassion. Finding balance is crucial. I do not try to suppress my emotions of empathy to prove that I can 'do it like a man.' I simply strive to do things fairly and professionally. Inevitably, I know I will be met with both successes and failures but I view everything as an important learning lesson."
Asked about what drives her to succeed under so much pressure, St. Aime-Joseph said it is all about dedication and conviction for her. She said: "I come from a background of struggle. I know from experience what happens when people are disenfranchised; when services don't reach those who need it most and the fatalistic sense of doom that people can feel when it seems that they have no voice. I recognize that with the work that I do, I am in a unique position to give voice to the voiceless, to inspire youth with stories of triumph, to empower citizens with information and to keep them abreast of the issues that affect their daily lives. I remind myself that I have a responsibility to the people and it is a sobering realization…it allows you to push through."
With that said, St. Aime-Joseph wants women in similar situations to know that she is no different to them and that in fact, they too are all "sheroes" like her.
She said, her life is in no way an easy one: "Life is a colourful mixture of good and bad days. Hits and misses. Some days I feel like I can do nothing right. But I remind myself of my vision and I press on. My advice to other women would be to listen to your instincts. If something does not feel right then don't force it. On the other hand, when that little voice inside says, 'Go for it. You can do it!' Be ready to jump. Internalise your greatness. When you know who you are, you strengthen your spine and press on. Stop comparing yourself to others. This is your path and your vision. Challenges will come but use those experiences to further fuel your fire. I tell myself that resilience is as important as talent and vision. I hope my favourite quote will inspire you too, 'Life demands Spartan endurance!"
Her secret: St Aimee-Joseph has a crippling fear of heights. "I once tried to climb the stairs of the crossover at Choc and had a panic attack. I got about halfway up the stairs and then my feet would not move. I eventually burst into tears and ran back down."