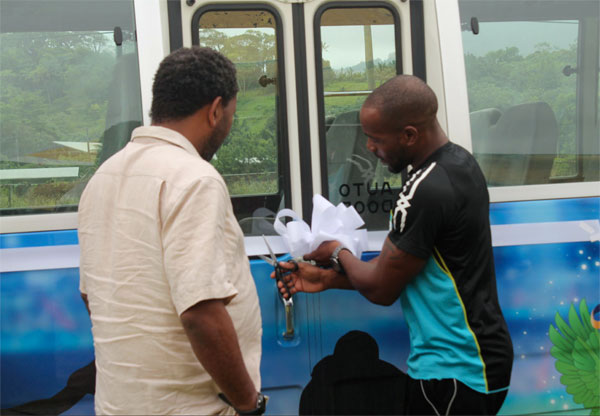 THE Ministry of Sports has ventured into a major collaborative agreement with the St. Lucia Football Association with the commissioning of what is being dubbed " St. Lucia Team Bus".
This 30 seater coaster was purchased by the SLFA and is being managed by the Ministry. It is being used to transport not only footballers but the nation's elite athletes and other teams in preparation for national representation and similar purposes.
Permanent Secretary Dr. Anthony George praised the SLFA for their collaboration and for being part of what he described as a most worthwhile partnership.
"I emphasise partnership because inspiring or igniting a culture of sporting excellence requires invaluable partnerships with various associations that we do work with. The SLFA has partnered with us in this respect in sharing the ownership of an invaluable asset. We are pleased to partner in the operations and management of this bus, "Dr George said during the commissioning.
President of the St. Lucia Football Association, Lyndon Cooper thanked the Ministry for allowing the SLFA to be part of the initiative which he said should take football to "higher heights"
"For us at the SLFA, these gestures, these opportunities are not just coincidental. It's part of a developmental plan where we attempt to look for social partners who are going to assist us to make football an enjoyable sport for all. We have five national teams in training and this will help us with our transportation, "he said.