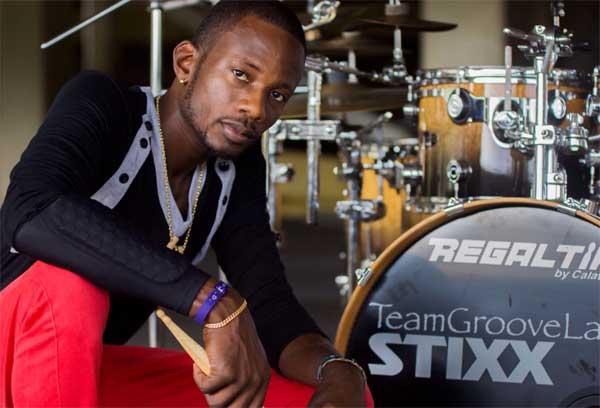 WHAT a difference a year makes, for it was only in August 2015 when The VOICE's Rochelle Gonzales interviewed Marvelon "Stixx" Mitchell for "A Face In The Crowd" and she asked him: What can we expect from you in the near future?"
Being ever so modest yet hopeful, he responded: "Well, I can only guarantee that I will be doing my best to take my game to another level and being the best that I can be. I guess whoever's following needs to keep tabs on me if they wish, whether it be supportive, or just to see what's up with this guy… to me it's a journey and I await the different experiences as they come. No one can determine the future for that's God work and he blessed me with this talent so I'm simply paying respect to Him by embracing "My Journey", the life of music."
Almost one year later, it is evident that Stixx's best has paid off as he has had some history making achievements and still has his eyes aimed at the sky with plans on continuing his rise.
Today, the drummer can proudly say that he is the first St Lucian to:
1. Play on international reggae records namely on a Dennis Brown single entitled "Everything Happens In Its Own Time" as well as playing on more than one track for Jamaican dancehall artiste Spragga Benz and Kymani Marley, including a Spragga Benz single called "J".
2. Be endorsed with Drumstick Company Regal Tip by Calato with his signature drumstick
3. Be endorsed with SnareWeight out of San Francisco, Unites States
4. To become the very first drummer out of St. Lucia and the entire Eastern Caribbean to be affiliated with the Marleys as he is now the official drummer of JoMersa Marley, grandson of the late reggae legend Bob Marley and the son of Stephen Marley.
Earlier this year, the drummer was also endorsed and is an ambassador for telecommunications company Digicel.
THE VOICE sat down with Stixx so that he could talk us through his journey and how he managed to achieve such feats within one year.
The feeling during the entire interview was a mixture of excitement, gratitude and hope.
Of his achievements, he started off by saying: "It's an accomplishment but it's not the end of the journey. In our last interview together, you asked me what was next and I didn't know. I had a plan and a vision but I couldn't say 'hey, this is going to happen at this time' because as I told you, this is God's work and you have to let it happen. When it happens, you just have to always be ready. I never know what's going to happen but I expect the unexpected, simple as that…but I'm putting in the work."
Stixx revealed that his achievements are surreal especially his affiliation with the Marley family.
He said this was most definitely a blessing that he received because of all his hard work and dedication: "For him to say 'Yes my drummer is from Saint Lucia', I mean, there are millions of drummers in Jamaica and Miami (Where JoMersa resides) but I guess it was my time. It's hard work but everything happens in the right time"
Stixx added: "The plan was actually set to cater for that. So it wasn't like I just happened to be in the right place at the right time like, 'Yo, will you be my drummer?' No it didn't really work out like that. There was still a lot of work that I had to put in. I had to make sure that I was in certain places and I had to be around certain people. I had to be willing to be there. It's 24/7 on the clock because my career demands 365 days of effort."
As a result of this dedication, Stixx said he is somewhat of a recluse when he is not working as he doesn't have as many friends as one might think.
On the other hand, he said, he has never and will never forget where he came from as well as the people, including friends and family who helped him along his journey, so for them, he always makes time.
Taking a few steps back, the self driven and motivated drummer spoke about what led to him being where he is now.
Stixx said it was all a series of very fortunate events and meetings that worked like a domino effect, landing him opportunity after opportunity. It all began after a close acquaintance, Derek Barnett, (who is a Jamaican-based player who has worked alongside popular Jamaican artistes including Beenie Man, Bounty Killer, Ninja Man, Dennis Brown and Kymani Marley) contacted him to join him at the Beegee studio in Brooklyn, with hopes that he would be interested in working his magic on a few tracks from the late Dennis Brown (Barnett currently holds the rights to Brown's music).
This was when the song, "Everything Happens In Its Own Time", caught his attention and he agreed to play on it. Barnett, he said, was blown away by his performance, especially at the fact that his part was completed after only three takes.
This marked his first achievement and according to him, was the door opener to all that followed.
Stixx said it wasn't long after that studio session that word started to spread about him.
In the meantime, Barnett, he said, took him under his wing and invited him along for a number of gigs including playing onstage for the likes of Everton Blender as well as working with music producer, Bushman, who would regularly request the drummer to come along to rehearsals.
During those rehearsals, this was when he met Llamar "Riff Raff" Brown, who is a keyboard player/super producer for the likes of Jah Cure, Morgan Heritage and Stephen Marley.
Brown also happened to be the producer for JoMersa Marley, who was at the time looking for members for his new band.
Right then and there at that meeting, Stixx, who always walks fully prepared, handed in a few demos where he was executing some of his unreleased material and the rest, as they say, is history.
Today, Stixx works alongside JoMersa Marley under Stephen, Damian and Julian Marley's label, Ghetto Youths International and has also got to live his dream of playing on the records of one of his music idols, Junior Marvin who is Bob Marley's original (and flamboyant) guitar player and is now a close friend, despite the age gap.
Stixx went on to speak about his big endorsement which saw the brand behind his first pair of drumsticks ever, place his signature on their product.
He had received an invitation in January from the Yamaha brand, as well as a friend, John Blackwell (drummer for numerous musicians including R'n'B artistes, d'Angelo, Justin Timberlake and the late Prince), to attend the five day mega music brand convention, NAMM (National American Music Merchants) in California.
The Son of the Soil said luckily he accepted the invitation because whilst there, the next thing he knew was that he was signing an endorsement deal with Regal Tip.
The busy drummer said he is beyond grateful for all of his blessings and rather than take any of them for granted, he plans on working harder to continue on in his quest to push himself to the limit if there even is one.
Stixx said: "To be the drummer from Saint Lucia who has achieved all of that is not just an accomplishment for me but is also one for my country."
He added: "Yo, to work with the bloodline of Bob Marley, I don't care what anybody says, but to me that's like…It's not even about the songs, the songs are great, but just the experience and the journey, it's just breathtaking. For me, that keeps me wanting to keep practising and as I always say, continue to be the best that I can be and the best that I am right now is the drummer for JoMersa Marley."
Mitchell is currently gearing up to go on tour with Marley later in the year. The band will be touring with Pop/Reggae band UB40.