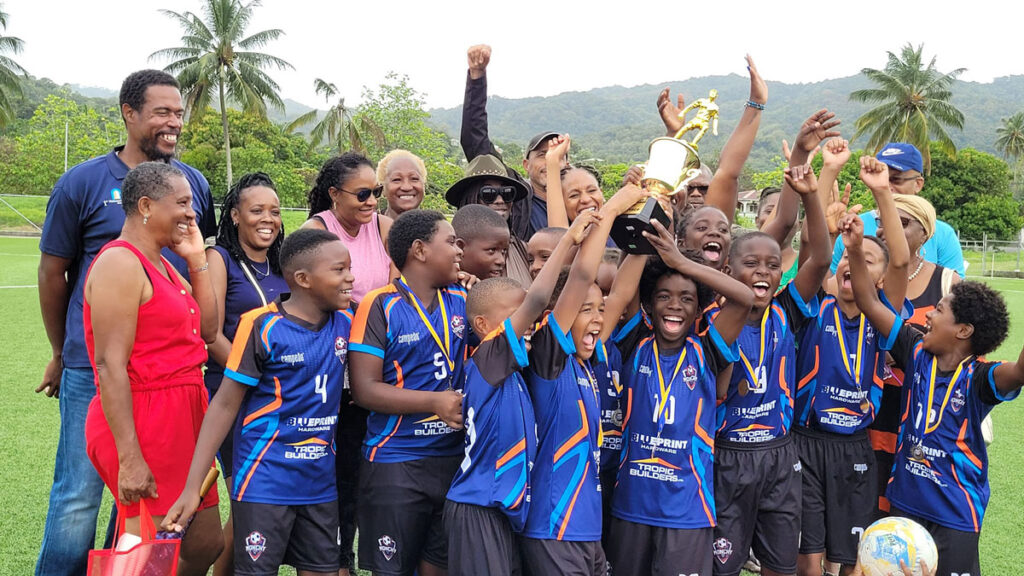 Monchy FC emerged winners of the Saint Lucia Football Association (SLFA) Inc.  Zonal Boys Club Under- 10 competition, which concluded at the Technical Centre in Grande Riviere Dennery on Sunday (April 2).
The northern-based team defeated CT Foundation 2-0 in a decisive encounter for the championship title, after both teams had played undefeated in the competition.
Monchy FC's goal scorers were Kayden Thompson with an own goal in the 24th min and Joshua Biscette in the 27th min.
In the Third Place Play Off, Panthers defeated Knights FC 3 – 0 with goals from Lyon Griffith 20th, 33rd and Raystan Bell 11th minutes.
At the post-match awards presentation trophies and medals were awarded to the top three finishers, while balls, ball bags and training bibs were presented to each of the four clubs.
Other awards included;
Most Goals – Dalson Kisna of Knights FC (8),
Top Team Goal Scorers:
Ethan Laurant CT Foundation (7), Lyon Griffith of Black Panthers (5) and Nathan Christophe of Monchy United with (2).
For their invaluable contribution, President of the SLFA Inc. Lyndon Cooper indicated that the top goal scorers of each of the four clubs will be awarded Scholarships to their school of choice, this September.
An SLFA spokesperson said the organization is grateful for the support from all participating teams, players, club officials, coaches, referees, caterers, and ground staff for hosting a successful U 10 Boys Club Zonal competition.
Special thanks to the parents, guardians, vendors and all those who came to offer their support to the young players.
Meanwhile, in the SLFA Under-17 competition, Black Panthers defeated Valley Soccer 4-1. Scoring for the Panthers were Inanaco Sylvester 35th and 56th minutes, Dante Serville 17th and Eymani Butcher 82nd minutes.
Marvin St. Romaine pulled one back for Valley Soccer in the 21st minute.