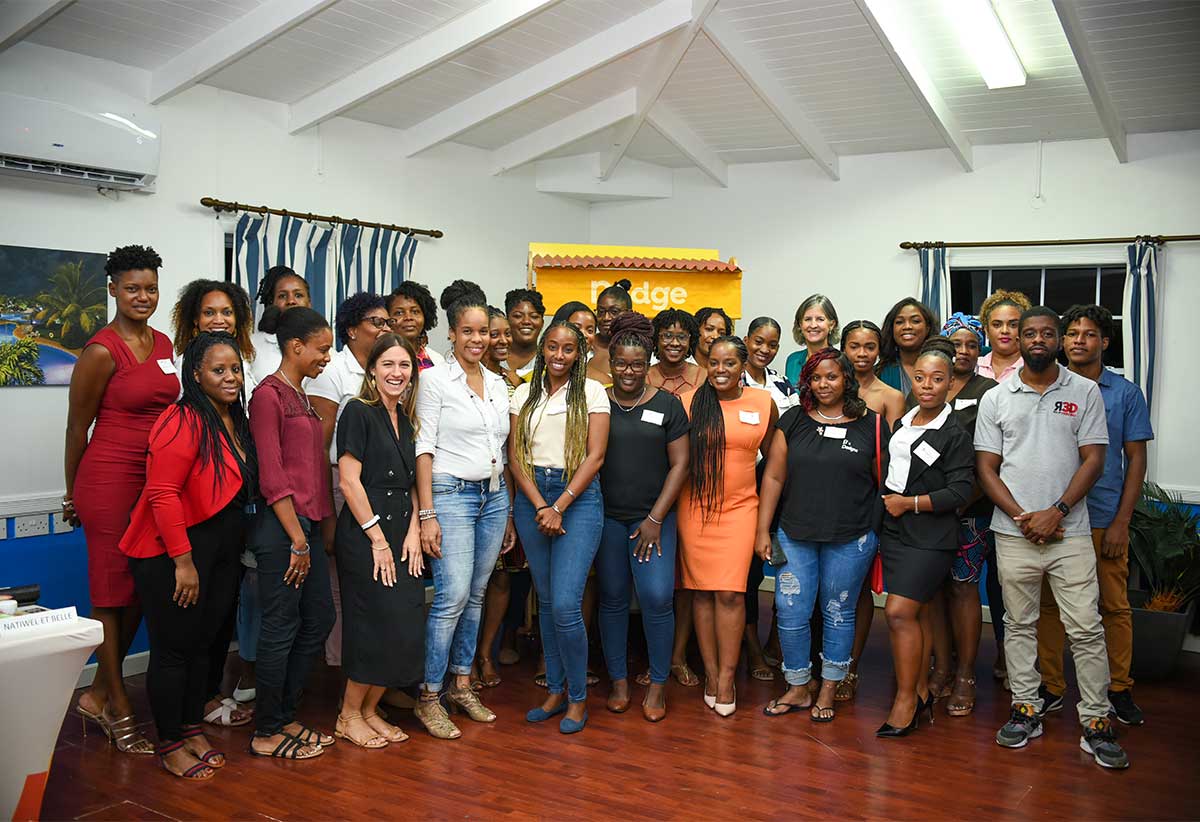 Since its pilot launch in September 2021 in Saint Lucia, the Nudge Caribbean social enterprise has welcomed twenty-six mindful entrepreneurs. As cohort 3 sets to activate its instore promotion in Massy Stores Mega on Friday 17th June 2022, entrepreneurs in the community and key stakeholders met at Coco Palm Resort for an interactive mixer to mark the occasion.
Nudge Caribbean is founded by creative entrepreneur Anya Ayoung-Chee and Julie Avey, Massy Group's Senior Vice President of People and Culture. The programme was first introduced in the Trinidadian market in 2020, to support entrepreneurs affected by the COVID19 pandemic and a year later welcomed Barbados and Saint Lucia into the community.
Nudge Caribbean is supported by the Massy Group and the Caribbean Development Bank to aid in developing the various initiatives in each island. The products are all #MindfullyMade, handmade with locally sourced materials (where possible).
For partners like Massy Stores, supporting this initiative aligns with the company's mandate to assist small businesses in developing products which are sustainable and purposeful.
According to Linda Augier, Division Head Category Management, Merchandising and Sales, of Massy Stores Saint Lucia: "Our role in this initiative is similar to our "Because We Care" campaign which supports local manufacturers and places a spotlight on their achievements. For us, to provide a platform for Saint Lucian Nudge entrepreneurs to raise awareness and experience sales in our stores is immeasurable, and we are committed to providing our continuous support."
A consortium from the Nudge regional team joined the local coordinators in welcoming the entrepreneurs. Also present at the mixer were strategic partners from the Saint Lucia Bureau of Standards, Bank of Saint Lucia, Cabot Saint Lucia, Massy Group and Massy Stores (St. Lucia), They were able to engage the community, interact with the products and participate in a pre-sale activity.
The e ntrepreneurs have the expertise of the entire regional community within Nudge and receive guidance and hands-on support from Nudge Country Coordinator Kezia Preville of AdVizze Consulting Inc, and Brand Ambassadors Shenel Charles and Keamalyn Charles in Saint Lucia.
MEET THE ENTREPRENEURS
The new cohort joining the growing network in Saint Lucia and showcasing locally made products at Massy Stores Mega Friday 17th June 2022 are:
– Lisa Barton- Volney, DeKloze Line (clothing, jewelry)
– Allana Maximin, Mallee Designs (jewelry)
– Jasmine Joseph, Natiwelo et Belle (natural deodorants and soaps)
– Huanna French-Leon, Sak Sa (creole activity book)
– Kisha James-Henry, Luvysmade758 (face and body products)
– Easteline Lewis, Els Designs (handbag sets)
– Nydia Norville, Choiselle (coconut wax candles and body products)
Cohort 1
Edisa Eugene, E'Bamboo Creations
Kayode James, Real 3D Printing
Kera Rene, KerNaturals
Terill Nicholas, Illuminating Designs
Shena Nathaniel. Xenn
Emma Abraham, Emma Dolls
Jessica Alexander, Sa Nou (St Lucia)
Malon Joseph, Lucian Child
Jancel Thomas, Healthy Strands
Shakira Roberts, Lotus Cosmetics Slu
Cohort 2
Christina Jn Pierre, Klete
Chelsea Jongue, Katuri Designs
Catherine Edmund, CK Designs
Jenneivi Augustin, Adellee Bags
Cecilia Augustin, Ceelouette Bijoux
Melissa Charles, Springforth Hair Oils
Darnica Jn Charles, D'Atizay
Angella Dalsou, Local Hippie Products
Sheena Xavier, Ti Kay Bouton
Visit the Nudge Market Stall inside Massy Stores Mega every Friday (9AM – 4PM) and Saturday (8AM – 1PM) from June 17 to July 24 and show support for these incredible creatives!